Sweeping in the City of Sydney, Australia
by Ranger Kidwell-Ross


The City of Sydney, with an area of responsibility that spans just 6.1 square kilometers, is by no means the largest council in Australia. However, because the Olympic Games were recently held there, it is perhaps the most well known.
Sydney has a current population is about 25,000, up from 7,000 just eight years ago. The resident population is that low because most of the land is covered with multi-story, high-rise office buildings. As I can personally attest, Sydney is a 24-hour city. Although it may appear to shut down completely during the few hours I've managed to snatch some sleep, my bet is that it doesn't. And, during the many hours I've traversed the city, it has been relatively packed with sightseers, most wearing short sleeve shirts even though the locals will tell you it's almost winter.
To discuss sweeping in this beautiful part of the world, we contacted Michael Shaw, Sydney's manager of cleansing and waste. The sweeping branch of his staff numbers 105, and he has 33 pieces of 'rolling stock' to call upon. The agency's sweepers are composed of two Johnston 605 sweepers, two Vanguard 4000s, three Johnston 2000 footway sweepers, two Tennant Littervacs, four Tennant LitterHawks, and four Green Machines. As one might surmise from such a lineup, sidewalks and footpaths are a big part of what needs to be cleaned in this area.
The agency Shaw manages performs the city's sweeping as the current contract holder. In 1997, the City of Sydney government first decided to hold open tenders (bids) on a variety of services. Through a competitive bidding process, Shaw's agency won the bid. I asked if there were advantages that went to a government agency in this situation. For example, I explained, in some parts of the United States, contractors have to pay prevailing wages but municipal authorities don't. This allows municipalities to weigh in with an artificially low bid.
"In our case, the advantage may actually go to the contractor," answered Shaw, "because if we propose an employee salary, we have to pay that wage if we win the bid. If a contractor wins the bid, they can take a look at any local or state award in Australia and pay their laborers whatever rate was specified in that contract. Contractors can also negotiate how they compensate for weekend labor, whereas we are required to pay overtime for weekend work."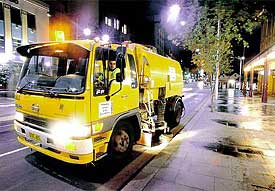 "When Sydney decided to pursue competitive tendering for its operational services back in 1997, that included street and footpath cleaning, parks cleaning and maintenance, and a few other types of services. Our division, which is called 'living city services,' is an actual part of City of Sydney government and is also the contracting arm. There are perhaps four or five major contractors who are capable of providing these type of services. Although we won the right to provide services for the first term of contract, the next term will come up in July of next year. At that time, we'll have to successfully re-bid to retain the contract."
"To determine our bidding price, we use a fleet management program provided by Trisoft Corporation called Oz Fleet. It gives me a breakdown of expected fuel costs, as well as maintenance costs -- both scheduled and unscheduled -- on our sweepers and other vehicles. The program doesn't tell me my entire cost per hour, since I still have to add in the drivers' wages and other costs, but it helps."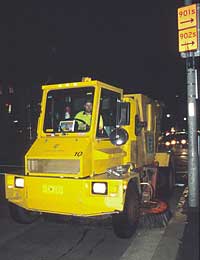 Under his agency's contract, Shaw's crews must clean from 'building alignment to building alignment,' which means they have to sweep every footpath in the Central Business District (CBD) every night. This is typically done from 11:30 PM to 6 AM, every day. Streets are swept on a 24-hour basis. "Our night shift does the detail cleaning," said Shaw, "and we run three different shifts each day that concentrate on maintenance cleaning."
"For sweeping, we utilize two large roadway flushers for streets, and three designed for footpaths. We turn the pressure down on those, so that they're just wetting down the litter. These are used to keep down the dust, not to wash material off the pavement surface. We also use five steam units and three scrubbing machines. The steam plants are used for cleaning under garbage bins and for spot removal on the granite surfaces. We have 60,000 square meters of granite paving footpaths in our main town area. The scrubbers are used for general cleaning of the granite. These are all high traffic areas."
Because of its harbor location, Sydney is one of the only councils in the state of New South Wales to have what Shaw call 'trapped gullies.' These are water-charged catchbasins with a separator inside them. These particular ones employ a brick wall inside the catchbasin, or gully. It is built such that any water must go under the bottom of the wall in order to drain out. This keeps floating rubbish from getting into the runoff stream. Then, the sand and dirt is cleaned out by a purpose built eductor, using standard hand-hose methods, once every six months.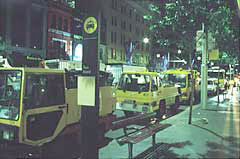 Although they do wash some streets to improve their appearance, steps are first taken to minimize storm water runoff pollution. As part of the contract, before any flushing is done, the street must be swept. Then, any water from sweeping or scrubbing activities must be discharged to the sewer system, not to anywhere else. This keeps the flush trucks from washing an excess of small debris into the gullies.
"We use our vacuum sweepers for regular cleaning; however, we need the broom sweepers for special events," said Shaw. "The vacuum sweepers can't handle the bulk rubbish we get after some of our events. After each of the last three New Years Eve celebrations, for example, we picked up over 100 tons of rubbish in just one day. With that kind of volume, which can be piled up a solid foot and a half deep, the vacuum sweepers just can't handle it. That's when the broom sweepers come into their own. For New Years, I also add 100 extra staff workers, because our mandate is to start at midnight and have the city back to standard by 8 AM. We have the same type of situation after Mardi Gras, although it's not spread out into nearly as big an area."

"Last year, the 21 days of the Olympics was the biggest thing we've ever done. Our agency added more than 500 extra staff workers, and picked up more than 600 tons of material over that time period. We also contracted for additional sweepers from wherever we could get them, but that only gained us another four. Every night during the Olympics was a big night for us. We had six separate 'live sites,' compared to the one they ran in Atlanta. These were locations that had big screen televisions and other shows. At these sites, large crowds gathered both to watch the Olympics' action, and to watch or participate in the other entertainment that was going for 24 hours a day. Since food and beverages were sold at all those locations, the ongoing cleanup was very challenging."
"Probably the worst venue to deal with was at the Royal Botanical Gardens, a fairly large park that hosts large concerts. Theoretically, it has a concert capacity of 40,000. For the major concerts, like Savage Garden and some others, we had over 100,000 people crammed into the space. One of the most interesting times for us was when we had a major concert the night before, and had to have the grounds ready for an 11:30 AM kids' concert the next morning."
The shows in the Gardens were a time where, for us, the Tennant Littervacs came into their own. They're an all-terrain, small capacity sweeper, but if the situation calls for a machine to run over grass and pick up glass and similar debris, they work brilliantly. Since this was a sensitive site, the Littervac's relatively light weight and track propulsion did a good job for us."
As a current visitor to Sydney, I can attest to the cleanliness of the city's CBD and waterfront areas, especially the footpath and other pedestrian traffic areas. The natural beauty and geographical setting of Sydney is well known, and it's nice to see, firsthand, that the pavement cleaning is overseen by someone who obviously cares about doing the best job possible.
To contact Michael Shaw, Sydney's manager of cleansing and waste. Mshaw@cityofsydney.nsw.gov.au
This in-person interview by our editor, Ranger Kidwell-Ross, was held in June of 2001.