Mr. Sun, Chinese Sweeping Entrepreneur
by Ranger Kidwell-Ross

I visited with Mr. Sun (pron: Soon) in his native city. He is one of China's emerging breed of capitalist entrepreneurs. I get the distinct feeling that he knows, and is a friend to, anyone and everyone that might be of importance to his business.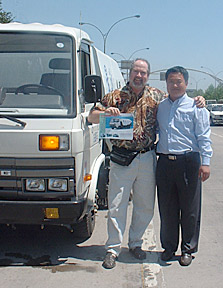 Sun has several companies. One of his companies has acquired a government contract for the safety-certification of vehicles. This certification is a process that commercial vehicles, like trucks and taxis, must undergo every year. Through his contacts in the government, Mr. Sun's certifying station is the only one located in his hometown city of 2.1 million people. In the picture of myself and Mr. Sun at right, I'm holding up is his 4-color sweeper brochure, which is written in both English and Mandarin.
Another of Sun's companies manufactures vehicles that are used, primarily, as police cars. To date, his car company has built and sold as many as 500 of these per year. In 1993 and 1994, Mr. Sun also procured a contract through a government-related agency, called the Chinese Cabinet, to build 300 armored cars per year.
In 1996, Sun first got the idea of dealing in power sweeping equipment. "The government was getting very interested in protecting the environment," said Mr. Sun (as translated through his interpreter and in-house legal counsel, Mr. Lee). "Because of that, sweepers seemed like something that would be a natural growth area of business. I went to America last year to look at what was available, since prevailing opinion in China is that American-built machinery is the best quality."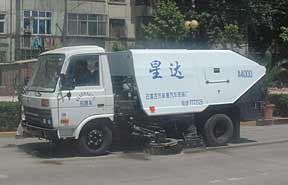 Sun decided to purchase a regenerative air sweeper, and chose a Schwarze model A4000. His intent was to show his city's officials why the use of an air power sweeper would be a big improvement over the traditional Chinese way of sweeping. He thought he could get contracts to sweep with it and, eventually, hoped to sell it to a city at a profit. Since this method of sweeping was so new, Sun's demonstrators at first had to go to great lengths to demonstrate how and why using a machine was better than the current method of employing manual labor. About 4 months ago, the city purchased the sweeper outright, and now operates it themselves.
"Because of China's new emphasis on environmental matters, the newspapers, television and other media have been very helpful to this process [of introducing machine sweepers to China]," said Lee. "Also, in our downtown areas the roads are very busy, and that makes it dangerous for those who sweep as laborers. Plus, the paved streets remain very dusty even after the brooms [of the manual workers] go by. With the regenerative air sweeper, there is much less dust that stays on the street and it is also works very fast. When the sweeper goes by, that part of the road is then very clean."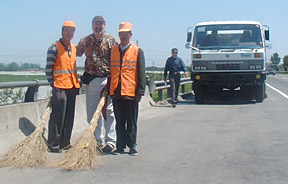 Since virtually all in-town sweeping had been done by the use of manual labor with brooms and large dustpans, this transition is a huge step for the city. When one sees, firsthand, the incredible traffic congestion that exists there -- especially during morning and evening hours -- it's easy to see why manual worker safety would become a premium topic.
Also, it's an area where dust is a prevalent problem, and the crude fiber brooms leave most of the dust, and may even produce more, much like using a mechanical-broom power-sweeper. In the areas we visited, where one of the sweepers was operating, the pavement was sparkling clean. Although people with brooms were, seemingly, at every corner in the other parts of town, the difference in cleanliness was marked. In this picture, they happened to be also working where the sweeper was passing by; old way and new way in one spot.
"There are 5 major districts in town," said Sun. "The first sweeper I brought to China was purchased to sweep the area with the heaviest traffic, the downtown core. The sweeper now cleans this area, a route of about ten kilometers, seven days per week. Because the results were so positive, another district then purchased an A4000 from me for their part of town. Now a third district has an A4000 on order. All have seen the big difference in how clean their city can be."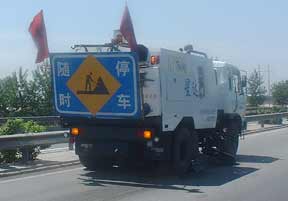 Sun also has customers who have purchased Schwarze A7000 sweepers for highway cleaning. In China, many of the new highways are constructed using multi-national consortiums of contractors and investment. As best as I could understand (after wading through the political, cultural and translation challenges inherent in our conversation), eventual control is then vested in what is called a 'Cabinet.' This is a quasi-government agency that is subordinate to the local department of transportation agency. The finished roads are often run as toll roads by the Cabinet, to cover the costs of construction and maintenance.
Mr. Sun said he had to work closely with the Cabinet in order to introduce the concept of what power sweepers could do. Convinced that the government would like the results they'd get with Schwarze's A7000, he purchased one and brought it into the country for use as a demonstrator model. After trying it out for a couple of weeks, the Cabinet's decision was to purchase two of the machines.
China's Environmental Protection Agency also seems very happy with the results obtained when sweeping with the regenerative air sweepers. While visiting Sun, we had a dinner that included the top EPA official in the area.
The local office of the EPA, I was told at dinner, is divided this area's main highway into "management districts." In a nearby district, the EPA specified that each area was to be cleaned by a different type of sweeping method or equipment. The area swept by one of the machines that had been sold by Mr. Sun -- the Schwarze A7000 --turned out the cleanest. As a result, there are now even more agencies interested in this model of sweeper.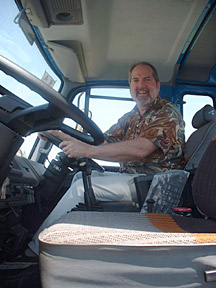 Currrently, the A7000s are sweeping their assigned section of highway an average of two times in every three days, far more often than in the U.S. As a result, the power needed for pickup is minimal in most areas. Most of the material is sand and dirt from the surrounding countryside, although some material comes from transported loads. Because Chinese highways outside of the cities don't have as much traffic as similar roads in the U.S., there isn't as much debris buildup as in the states. This also implies there isn't as much debris toxicity from petrochemical pollution.
As you can see in this picture, I got a chance to drive the A7000.
The combination of an increasing government mandate toward free enterprise, along with the increased emphasis on environmental cleanliness, is putting China on the technological map for the first time in its long history. With that movement will come a need for sweeping equipment to keep paved areas clean. Although language and other challenges continue to exist, it appears that power sweepers are destined to have a significant position in the future cleanliness of pavement in China.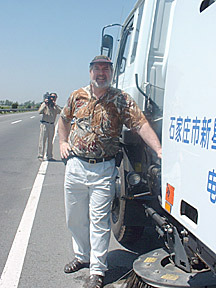 PS: When I met Mr. Sun, he had alerted the local media of my arrival. As a result, I'm told the event was shown twice on both the local and Beijing television stations. Unfortunately, due to scheduling I was unable to see either of these. In this photo, one of the two television cameramen can be seen in the background.
This story was one written during our editor's trip to Asia in 2001 to investigate sweeping. While he was there, Ranger wrote an online journal for the sweeping industry. You may still view this online journal, which won a U.S. APEX Award for Online Journalism, in our archives.