The following article was initially published in the August/September 2001 issue of PAVEMENT magazine and is reprinted with permission. You may reach PAVEMENT magazine via email sent to Allan Heydorn, editor, at pmedit@aol.com.
EPA Stormwater Act Phase II: Opportunity for Sweepers
By Lindsay Hitch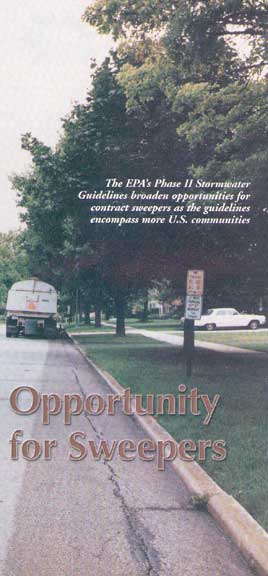 The environment is a concern for construction and sweeping contractors, urban and rural alike. It seems that each month new legislation is passed making it more and more complicated to complete a day's work. So how do you keep it all straight and determine which regulations really apply?
EPA's Phase II Guidelines
The U.S. Environmental Protection Agency (EPA) is working to clear up some of the confusion in federal environmental legislation. Of concern to many contractors and municipalities now are the Phase II Stormwater Guidelines, which will not be enforced until March 2003.
Generally speaking, the Phase II guidelines extend the Phase I Guidelines to more areas. Phase II guidelines leave many procedural decisions up to communities, rather than dictating specifically how programs should be run. They also include six common-sense elements in a comprehensive conservation and public education program.
Where the Phase I guidelines affected approximately 50 U.S. cities, the Phase II guidelines require stormwater operating permits in many more cities (more than 200 in Wisconsin alone, for example. For a complete list of affected cities see the Federal Register, Dec. 8, 1999, v. 64, Appendix 6. Note that the list begins toward the bottom of this very large text file and continues onto another web page.)
The Phase II guidelines will also apply to military operations, Native American reservations, federal construction projects, agricultural operations and construction sites of one acre or more.
The final rule on the Phase II stormwater guidelines was released in December 1999. Communities and companies had approximately three years to bring their stormwater programs up to regulation. For many, the process will require a lot of time and money.
"The good news is that many communities have recognized this fact and have begun to work toward the standards of Phase II," says Mark Kinter, principle applications manager for Tennant Company.
Each state's Department of Natural Resources (DNR) will be responsible for enforcing Phase II and administering programming to ensure its success. Many states have begun to determine acceptable levels of pollutants for specific cases, also know as performance standards. Public hearings are typically held throughout the year to voice concerns and recommendations.
"We want to be sure everyone is on the same page with Phase II. It is a community effort that needs to be both effective and realistic," says Eric Rortvedt of the Wisconsin DNR.
Wanted: PR for Sweepers
Phase II affects many areas and businesses that might not have made the environment a high priority in the past. These communities and companies will need an effective solution for maintaining the set environmental standards.
"Phase II brings to focus that sweeping is important even in smaller communities," says Tymco's marketing manager, Bobby Johnson.
According to the EPA, the problems facing the contract sweepers' role in environmental management stem from poor public relations and operator performance. In the 1980s the EPA conducted the National Urban Runoff Program (NURP) to determine the effectiveness of sweepers in controlling PM-10 contaminants in water. The study focused heavily on broom sweepers and determined that they were often ineffective in maintaining water quality.
Unfortunately, studies like NURP are difficult and expensive to conduct, and few controlled studies have been done since. Sweeper styles and technology have changed significantly since the 1980s, but there have been few studies that acknowledge that fact. Many municipalities still view sweeping as a cosmetic luxury, rather than an environmental necessity.
Despite past studies, the EPA has named sweeping a "best management practice," recognizing that communities and property owners can rely on sweeping as part of their efforts to keep parking lots and roadways clean, thereby improving the quality of stormwater runoff. EPA has even suggested that an increase in sweeping frequency can improve runoff quality.
However, the EPA has recognized that much of the public is unaware of the problems associated with stormwater runoff --- and with the various efforts that can be made to reduce pollutants in the runoff. So part of Phase II is directed at educating the public.
By actively promoting Phase II standards prior to their March 2003 enforcement date, contract sweepers can not only help raise awareness of local environmental issues, but can promote their contract sweeping business as well. Changing the public's perception of sweeping is the key to unlocking business potential --- and helping to maintain your area's natural resources.
Manufacturers say contractors should take advantage of the new opportunities for customers resulting from implementation of Phase II. Many communities and companies will need help meeting stormwater runoff standards, and sweepers' services might be their best --- and easiest, and most inexpensive --- option. Be sure they know who you are and how you can help.
Operator Training is Key
Manufacturers also encourage contract sweepers to train their equipment operators well. Many of today's higher-tech sweeping equipment can be more complex, but when operated properly they offer significant improvements over older machines.
So make sure operators know how to best utilize the equipment they're running. Operators using equipment with water-based dust control, for example, often use too much water and leave a brown dirt trail behind.
"When operators are careless or inexperienced, they often spread dirt from the side of the road across the machine and leave the center of the road dirtier than it had been before," warns Mark Kinter.
In addition to landing new accounts, it is important to convince current customers that frequent sweeping is a necessity. The average municipality in Minnesota, for example, is swept twice a year. The San Francisco Bay Area, on the other hand, is swept every three days, and the difference is remarkable.
By educating customers and prospects about the importance of increased sweeping frequency, contract sweepers can increase their work while helping communities and property managers reduce pollution.
The Phase II stormwater guidelines have the potential to increase the contract sweeping market. With a little marketing and some help from the EPA, preventive maintenance sweeping could become much more common than in the past.