Some California Municipalities Sharing Same Clean Water Program Manager
With the rise of complex regulations out west, some smaller cities find value in sharing a dedicated stormwater specialist.
by Shelley Ross

Regulations of the Clean Water Act are growing ever more complex in California and elsewhere, and require more oversight and supervision every year. In an innovative way of addressing the challenge of negotiating this growing complexity, several municipalities have combined to employ the services of an individual who keeps track of these rules and changes in requirements for them. This both smoothes the way and assures compliance for all.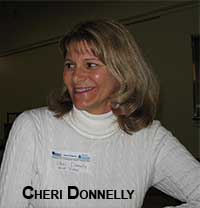 Cheri Donnelly, West Valley Clean Water Program Manager for the municipalities of Campbell, Saratoga, Los Gatos and Monte Sereno, contiguous communities located in the South San Francisco Bay Area, is one such individual. As their storm water coordinator, she keeps up on the latest storm water management techniques, collecting and organizing data needed by the cities and making sure that information reaches those who need it.
Her job evolved naturally since those four cities are co-permittees of the Santa Clara Valley NPDES Permit, which encompasses 13 cities and two agencies. Donnelly attends the monthly meetings of the 15 agencies as well as various ad hoc task groups, and communicates pertinent information, decisions and requirements to the proper individuals in each of her client cities.
Donnelly's domain includes street sweeping, industrial and commercial inspections, illegal discharge or illegal dumping (ICID) incident reporting, public outreach and subgroups that focus on pesticide, trash and mercury pollution prevention. All of these tie back to the Santa Clara Valley NPDES Permit. As a part of requirements for that Permit, the cities must comply with their Urban Runoff Management Plan for which they submit an annual report.
Donnelly's superior is District Manager for the West Valley Sanitation District, which does the storm drain/catch basin cleaning as well as sewer cleaning. He was the starting point for what became the Program Manager position. Three of the District's cities had come together, later joined by a fourth, requesting that the District Manager write their Annual Reports, required by the Permit. As his District was already maintaining their sewer system and cleaning/inspecting their storm drain system, he agreed to accept the task.
In the beginning this Annual Report consisted of several pages, but evolved as complexity increased to necessitate a separate binder for each city. It became clear that a separate individual was necessary to supervise it, and so a coordinator was hired.
Donnelly is the fourth coordinator to fill that position, supervising a staff of three part-time assistants, including an inspector whose job includes educating the public on the reasons for regulations and the importance of compliance.
She has observed a constant trend to more complexity, to increasing scrutiny, to tighter regulation. For instance, new-development permit requirements have recently tightened from requiring storm water measures for developments of an acre or more, down to 10,000 square feet of impervious surface.
"As everything grows, much more training is needed. It's not so much just cleaning catch basins and promoting best management practices (BMPs) to be in compliance. Now, you have to involve city staff such as the planners and engineers, and report on the decisions they make and the education they provide to developers or land owners.
City inspectors must track and report on the storm water BMPs constructed on private property. Project applicants must sign an agreement to attach to the title or deed to the property, which states that the BMPs will be kept and maintained in perpetuity with the property. The cities are required to ensure that everyone who needs this information receives it," said Donnelly.
"Industrial facility inspections and all storm water inspection reports have become more standardized among our cities. This enables the consortium of government agencies in the Santa Clara Valley Urban Runoff Pollution Prevention Program (SCVURPPP), to compare trends and evaluate which municipal efforts are the most effective. The most effective methods become planned management actions.
In street sweeping it used to be just doing the sweeping, but now we collect statistics on curb miles and cubic yards of debris per curb mile, and separate residential data from commercial data. This data is then tracked and standardized to ensure compliance with our Permit," Donnelly explained.
Donnelly has observed that one of the primary advantages of several municipalities sharing a Program Manager is a wonderful synergy that occurs during monthly meetings. She brings requirements before them, and representatives from each of her four cities have come up with great ideas that have helped all of them. Discussion inspires new ideas, generates questions, and leads to a deeper understanding of how to implement the Permit. "Working together, we support each other and get more accomplished," Donnelly said.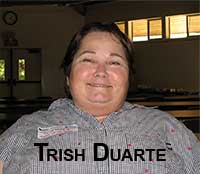 Trish Duarte, a plan check engineer with the Town of Los Gatos who works with Donnelly, said, "It's a huge help to have this outside coordinator of information to help us keep on top of the oversight of storm water regulations."
If there is a drawback to this cooperative situation, it is minor, and can be viewed as having a positive side. As part of a combined group, the Program addresses requirements for larger municipalities, which may not apply to separate smaller cities.
Monte Sereno, an exclusively residential city with a population of about 3800, is a perfect example. This increases the amount of information that Monte Sereno staff must know, but puts their city on a par with environmental quality standards of much larger cities. Santa Clara Valley standards rival those of Los Angeles itself, and it's probably not such a bad thing to be ahead of the curve.
Cheri Donnelly may be reached 408-354-4734 ext. #3. Her email address is cheri.westvalley@comcast.net. The organization's website is: http://www.cleancreeks.org/