The following information was initially provided by Don Waye, of the EPA's Nonpoint Source Control Branch. Although not, strictly speaking, sweeping-related, finding ways to reduce stormwater pollution runoff has become the most emergent requirement for street sweeping.

You may reach Don Waye via email sent to: Waye.Don@epa.gov.
2013: Summer of Storm Drain Art?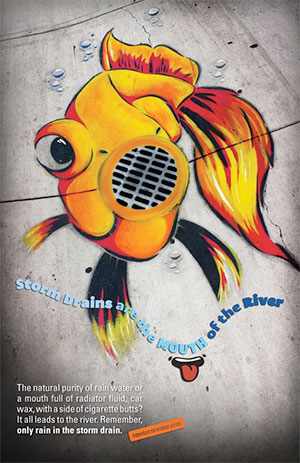 Reno, Nevada is rolling out a new video on its storm drain art project called "Public Arts Fights Pollution." This is a great concept, video and slogan ("Storm drains are the mouth of the river"). Take a look at what the city is doing. You may also view the video on YouTube.
There are a surprising number of similar storm drain awareness art projects across the country, many debuting in 2013. Here's a round-up in no particular order. If you have a project you'd like included in the links, please let us know.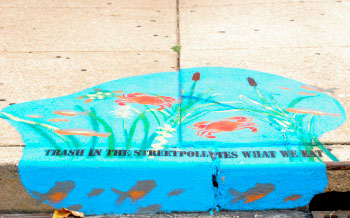 Here's a link to the storm drain art from Baltimore, Maryland. Also, Baltimore has also customized and expanded its line of storm drain stencils. Note particularly Blue Water Baltimore's nice outreach video and plea for volunteerism halfway down this page.
Here's a link to the storm drain art of Bowie, MD:
Here's a link to the art from Springfield, Missouri that dates "way back" to 2008. Then, here are the updated efforts in Springfield, showing a really nice video and storm drain art series. The city even offers a map of painted storm drain locations in that city.
Columbia, Missouri, also has a strong program. Here is also an article written in the local newspaper. Getting buy-in from the local media is crucial in setting up this type of program.
In Washington DC, the Mt. Rainier Storm Drain Painting Contest involves a total of 185 students from Mt. Rainier Elementary, Thomas Stone Elementary, and the Club Joe's afterschool group at Joe's Movement Emporium to paint 10 storm drains around their area.
Here is a link to information on the project in Fayetteville, Arkansas.
Here is a link to information on the topic from Michigan.
Illinois also has an entry in the area of storm drain art.
Finally, as your bonus for getting to the end of the article, here are some photos of storm drain art from a really clever artist in Sao Paolo, Brazil (although these are unrelated to storm drain awareness, they are a lot of fun).