Evaluation of Street Sweeping as a Stormwater Quality Management Tool in Three Residential Basins in Madison, Wisconsin


Editor's Note: Although this study concluded in 2006, results were not published and provided to WorldSweeper until early in 2008. Note that our coverage includes an approximately 25-minute audio interview with William Selbig, which you'll find referenced at the bottom of this page.

by William R. Selbig and Roger T. Bannerman
Abstract
Recent technological improvements have increased the ability of street sweepers to remove sediment and other debris from street surfaces; the effect of these technological advancements on stormwater quality is largely unknown. The U.S. Geological Survey, in cooperation with the City of Madison and the Wisconsin Department of Natural Resources, evaluated three street-sweeper technologies from 2002 through 2006.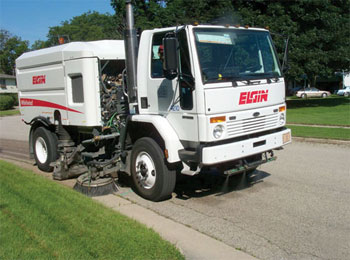 Regenerative-air, vacuum-assist, and mechanical-broom street sweepers were operated on a frequency of once per week (high frequency) in separate residential basins in Madison, Wisconsin, to measure each sweeper's ability to not only reduce street-dirt yield but also improve the quality of stormwater runoff. A second mechanical-broom sweeper operating on a frequency of once per month (low frequency) was also evaluated to measure reductions in street-dirt yield only.
The sweeper types used were all provided by Elgin. The regenerative air machines were Crosswinds, the vacuum-assist machines were Whirlwinds and the broom sweepers were Pelican models.
A paired-basin study design was used to compare street-dirt and stormwater-quality samples during a calibration period (no sweeping) and a treatment period (weekly sweeping). The basis of this paired-basin approach is that the relation between paired street-dirt and stormwater-quality loads for the control and tests basins is constant until a major change is made at one of the basins. At that time, a new relation will develop. Changes in either street-dirt and/or stormwater quality as a result of street sweeping could then be quantified by use of statistical tests.
Street-dirt samples collected weekly during the calibration period and twice per week during the treatment period, once before and once after sweeping, were dried and separated into seven particle-size fractions ranging from less than 63 micrometers to greater than 2 millimeters. Street-dirt yield evaluation was based on a computed mass per unit length of pounds per curb-mile.
An analysis of covariance was used to measure the significance of the effect of street sweeping at the end of the treatment period and to quantify any reduction in street-dirt yield. Both the regenerative-air and vacuum-assist sweepers produced reductions in street-dirt yield at the 5-percent significance level.
Street-dirt yield was reduced by an average of 76, 63, and 20 percent in the regenerative-air, vacuum-assist, and high-frequency broom basins, respectively. The low-frequency broom basin showed no significant reductions in street-dirt yield.
Sand-size particles (greater than 63 micrometers) recorded the greatest overall reduction. Street-sweeper pickup efficiency was determined by computing the difference between weekly street-dirt yields before and after sweeping cleaning. The regenerative-air and vacuum-assist sweepers had similar pickup efficiencies of 25- and 30-percent, respectively. The mechanical broom sweeper operating at high frequency was considerably less efficient, removing an average of 5-percent of street-dirt yield.
The effects of street sweeping on stormwater quality were evaluated by use of statistical tests to compare event mean concentrations and loads computed for individual storms at the control and test basins. Loads were computed by multiplying the event mean concentrations by storm-runoff volumes. Only ammonia-nitrogen for the test basin with the vacuum-assist sweeper showed significant load increases over the control basin, at the 10-percent significance level, of 63 percent.
Difficulty in detecting significant changes in constituent stormwater-quality loads could be due, in part, to the large amount of variability in the data. Coefficients of variation for the majority of constituent loads were greater than one, indicating substantial variability. The ability to detect changes in constituent stormwater-quality loads was likely hampered by an inadequate number of samples in the data set.
However, sediment transport in the storm-sewer pipe, sediment washing onto the street from other source areas, winter sand application, and sampling challenges were additional sources of variability within each study basin and may have increased the difficulty in evaluating street sweeping as a stormwater quality management tool.
The entire study is available online at the USGS website. We also have it linked here on the WorldSweeper.com website as a PDF file.
| | |
| --- | --- |
| To hear a 25-minute audio interview (mp3 format) conducted by our editor, Ranger Kidwell-Ross with study co-author, William Selbig, click on the link shown to the right (opens into a new window). | |