Using Recycled Water for Sweeping in Water-Conscious Inglewood, CA
by Ranger Kidwell-Ross

The State of California is almost as well known for its water shortage as for its movie stars. The City of Inglewood has become an environmental leader in the state by actively seeking new ways to utilize a readily available alternative water resource, recycled water. With 185 miles of roadway to keep swept and the demand on scarce potable water becoming a daily concern, the City of Inglewood has developed a method to serve its community on both counts.

Since late 2003, Inglewood has benefited from a creative method of allowing the street sweeping dust suppression tanks to fill from either a recycled water fill station or standard, domestic water, fire hydrants. Inglewood was already using recycled water (wastewater treated and disinfected to California Department of Health Services standards) for irrigating several city facilities, including schools, several parks and the city cemetery.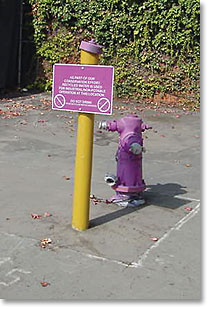 No mistaking this recycled water hydrant! It has been painted purple and outfitted with a different size and type of connector than on a standard hydrant.
This, in turn, led Inglewood managers to add an innovative component to the city's street sweeping program. Since April 2003, the city has been filling up its street sweeping, sewer jetting and water trucks with recycled water as well as potable water. Recycled water is provided by West Basin Municipal Water District from its wastewater treatment plant located at El Segundo, California. West Basin currently operates 7.3 miles of recycled water mains in Inglewood.
The idea for using recycled water for sweeper dust suppression systems first surfaced from the city's Waterworks Division, since one of the recycled water mains was located near the City Yard. Using recycled water in the City's sweepers and sewer cleaners seemed like a natural extension of the city's water reuse program.
Initially, a filling station utilizing one recycled water hydrant was set up at the public works facility in order to make it easy to fill the city's five sweepers, one sewer jetting truck and one water truck.
Ray Yeghyayan, Cross-Connection Control Specialist with Inglewood, is responsible for making sure there are no interconnections between the city's potable and recycled water systems. Since the City of Inglewood is the first in California to be allowed to alternate between potable and recycled water in the same vehicle, he must be doing a great job. Working with the West Basin Municipal Water District, which produces and distributes recycled water to City of Inglewood, Yeghyayan developed a dual fill pipe system where each of the pipes is color coded and sized differently.
"Part of my job in this," said Yeghyayan, "was to ensure no cross connections between our potable water sources and the recycled water when the sweeper filled up at either source. So there would be no mistake, the recycled water hydrant has been painted purple and outfitted with a different connector type than on a standard hydrant.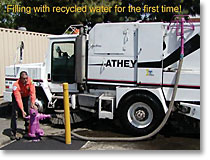 In 1995, the agency first opened its recycled water plant and today serves recycled water to 200 irrigation and industrial customers along 65 miles of pipe.
"We currently have one recycled water hydrant and we intend to install nine more at different locations throughout the city. We will locate the new hydrants as strategically as we can, given the location of the recycled water mains. Our recycled water hydrant has a 2-inch fitting, instead of the standard 2.5-inch fitting normally found on fire hydrants. The system that was devised also involves an air gap, to keep the two systems completely separate, and we also install different connectors on the two pipes. That makes it impossible to cross-connect the two.
"No other type of retrofitting is required for the sweepers. Our system on the sweepers and sewer cleaners was the first such system involving both types of connectors on the same vehicle to be approved by the State of California and Los Angeles County Department of Health Services.
"Now, when the sweepers and sewer flushers are at the Service Center, they use the special recycled water hydrant to fill up with recycled water. When they're out on the routes, because of travel considerations they use the normal connector to fill back up from a regular fire hydrant. This is a highly visible program that shows we are making an extra effort to lead the way in reducing the consumption of potable water."
Inglewood citizens are apparently supportive of their sweepers' use of recycled water, since Yeghyayan said that he's not aware of any complaints that involve the use of recycled water in the sweeping or sewer cleaning programs."
West Basin Municipal Water District, which supplies the recycled water, is headquartered in Carson, California. The organization, which was established in 1947 and is governed by five publicly elected Directors, provides supplementary potable water to the geographical area surrounding it. In 1995, the agency first opened its recycled water plant and today serves recycled water to 200 irrigation and industrial customers along 65 miles of pipe.
"The savings in water at City of Inglewood is not yet a large amount," said Joe Walters, the West Basin Recycled Water Project Manager for this project. "The program recycles only about 250,000 gallons of water a year, or about as much as an average single household would consume in the same time period. Still, it is no less significant due to the pioneering manner in which the recycled water is being used. This program is a very visible way for city managers to demonstrate to the public that every amount of water conservation is important and that we can each find our own ways of contributing.
"The key to the program's implementation was gaining the Department of Health Services' (DHS) approval to have dual source filling. DHS takes a tough stance on assuring the public safety when it comes to recycled water, and rightly so. But DHS is always willing to work with us and consider new ways to safely expand the use of recycled water.
"Inglewood is among the first to adopt a mandatory use resolution for recycled water. This means whenever recycled water is available and can be used for non-potable uses, it must be substituted for domestic water. Domestic water is no longer the default option without a justifiable reason why recycled water should be excluded."
In August of this year, West Basin awarded the City of Inglewood a Visionary Stewardship Award for its innovative successes in finding ways, such as with the sweeper water recycling program, to minimize potable water usage. From both a financial and conservation standpoint, the City's managers are leading the way for others in the area to do all that can be done to preserve this precious public resource.
---
For more information on the information presented in this article, you may reach Ray Yeghyayan via email: ryeghyayan@cityofinglewood.org. Joe Walters' email address is: joew@wcbwater.org.
This article is reprinted from American Sweeper magazine, Volume 9 Number 2, 2004.