by Roger Sutherland and Ranger Kidwell-Ross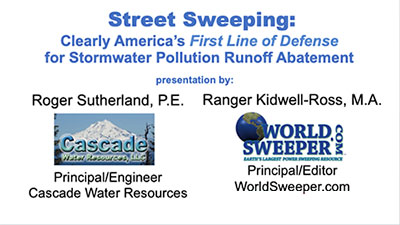 Street sweeping has long been recognized as an effective best management practice (BMP), one that can reduce the amount of stormwater pollutants entering storm conveyance systems and receiving waters. Both authors – who offer a combined 80 years of experience with power sweeping – have long been avid proponents of sweeping as the 'first line of defense' for keeping pollutants out of the runoff stream.

Over a span of more than three decades, each has conducted and/or reported on numerous street sweeping investigations and studies, as well as have written and/or edited an extensive number of articles on a wide range of street sweeping-related topics. At the bottom of this article is a 46-minute Zoom-based video presentation that replicates the authors 'StormCon 2020 Virtual' webinar presentation.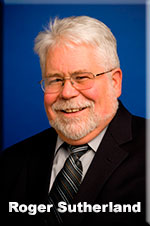 In a 2006 workshop on California roadway sweeping, we first presented data that clearly demonstrated the superior cost-effectiveness of street sweeping in removing pollutants from stormwater, as compared to a wide range of other BMPs. In a 2013 Forester University webinar entitled "Clean Streets Mean Clean Streams," Roger Sutherland featured published sampling data that showed street sweeping practices in San Diego were able to significantly reduce pollutants entering residential catchbasins. TSS was reduced by 74% to 85%, and heavy metals by 56% to 83%, as compared to washoff from identical unswept streets.
Dating back in the mid-to-late 1990's, Mr. Sutherland projected pollutant removals from street sweeping based solely on modeling studies supported by area-specific street dirt accumulation and pollutant concentration data. However, the modeling results were ridiculed by many as unrealistic and absurd.
The biggest criticism was that modeling studies are not sampling data and modeling results have not been chosen to be statistically determinate. So, in the intervening years, power sweeping still has not become widely recognized as the most powerful BMP generally available to stormwater managers. We seek to change that perception.
Comprehensive studies led by Dr. Sansalone at the University of Florida, conducted in association with fourteen Florida MS4s and the Florida Stormwater Association, examined contaminated material captured by a range of BMP activities and facilities. This exhaustive study, which built upon data collected and analyzed in 2011 and is estimated to have cost close to $2 million, concluded that street sweeping was by far the least expensive and most effective way to capture stormwater pollutants.
The Florida study found street sweeping to be "the most economical and dominant practice that MS4s can implement and optimize to maximize nutrient and particulate matter (PM) recovery benefits to urban drainage systems and the environment." The study had results that are statistically defensible at a 95% confidence level (CL) combining all 14 MS4s for PM, TN and TP.
For example, the study found the median cost of removing a pound of phosphorus by street sweeping was $257 — compared to $1,656 for catch basin cleaning, $7,450 for a baffled hydrodynamic separator, $9,210 for a screened hydrodynamic separator, and $32,600 for wet basin sedimentation followed by granular media filtration.
Dr. Sansalone stated in a December 2019 interview at WorldSweeper.com regarding these studies (link to interview) that: "The recovery of particulate matter and, therefore, chemical load, is orders of magnitude greater from street sweeping compared to any other BMP."
---
With such a strong endorsement, an enhanced street sweeping program should now be used in every city and county in the country that seeks to or is required to reduce urban stormwater runoff pollution.
---
In celebration of these historic, game-changing, statistically determinate, and comprehensive Florida studies, we have recorded the following webinar on street sweeping. The presentation documents why street sweeping is conclusively America's "first line of defense for stormwater runoff pollution abatement." The 46-minute long webinar addresses:

some of the study history on street sweeping's ability to reduce urban stormwater pollutant discharges
more information from the Florida studies
how to increase a program's ability to efficiently collect contaminated particulate material
the pros and cons of sweeping, how to enhance the value of your sweeping program to your community
things to focus on when developing a citizen friendly mandatory car removal program
---
In the event you can't view the presentation in this venue, or would prefer to view it at its YouTube location, the YouTube link is: https://youtu.be/kmPLnE-cY-o
You are also welcome to download the authors PowerPoint presentation as a PDF file. It is located here.

In the event you have questions or comments for Kidwell-Ross, you may reach him at editor@ worldsweeper.com. To contact Roger Sutherland, send email to sutherland.roger1@gmail.com. To view the sweeping industry experience of each of the two presenters, click here.
---
If you have questions or comments about this article, please let us know. If appropriate, we will append them to the article.