by Mark Kinter

Since the first powered street sweepers hit the streets 90 years ago, water has been used to wet the roadway to control dust. For about a dozen years, a waterless alternative to this practice has been sitting on the fringes of the sweeper world, and environmental demands and water restrictions are now bringing it into the mainstream.
The water factor
In the past, people didn't place that much value in water and used it freely. This has changed. Hardly a day goes by that the media doesn't have an article about droughts and general water shortages. It's not uncommon to have lawn-watering bans as well as restrictions on car washing and other non-critical activities.
To really understand the magnitude of the problem facing us, one only has to look at the amount of money spent on water resources. The U.S. market for water resources management, equipment, and services reached $102 billion during 2004.
Most people don't realize the quantity of water that a properly operated sweeper can use. A typical broom sweeper that has a PM10 rating can consume 1,500 gallons of water a day. With all the sweepers in operation across the U.S. and the increasing scrutiny of water usage, total water used by sweepers is increasingly being seen as a big number.
In addition to the fact that fresh water is becoming a more precious commodity, contractors that use water for sweeping don't have the easy access to it that the cities do. They must either install water meters on each sweeper or have a central hydrant and meter the water used from it. They must then pay for the water on a per-gallon basis. The bookkeeping involved to monitor this process is another form of overhead that steals profits from contractors.
Every time the sweeper is stopped to fill up with water, at least 20 minutes is wasted. This can easily consume an hour or more per working shift. Every contractor knows that, in order to make money with a sweeper, the brooms must be turning. Locating a hydrant and filling up with water is not productive.
If the dust generated by sweeping is not controlled, it can contribute to particulate matter (PM) air pollution. PM pollution has been identified as a critical issue by the Environmental Protection Agency (EPA) in over 50 areas of the United States. These areas have a combined population of 29 million people.
Waterless technology
The good news is that the technology used in industrial plants for decades to provide dust-free cleaning without the use of water has been scaled up to the street-sweeper market.
This dry-filtered technology has been applied to both broom sweepers and regenerative air sweepers. The methodology is quite different in each case, and the end users need to understand how they work in order to select the best sweeper for their needs. Broom sweepers that use this waterless technology are classified as "combination" sweepers.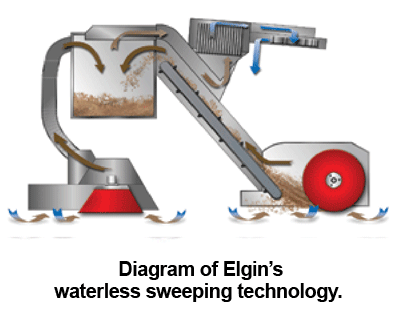 They rely on conventional brooms and conveyors to perform the main sweeping functions but use a dry-filtered vacuum system to contain the dust the brooms generate. In the case of the Elgin Eagle and Pelican waterless sweepers, the brooms are enclosed with flexible shrouds that prevent the dust from escaping.
A powerful vacuum fan on the sweeper creates an air stream through the debris hopper, conveyor, and skirted areas. The inward rushing air carries the airborne dust into the debris hopper, where it's allowed to settle out with the rest of the swept debris.
A long-life, dry-filter element is installed between the debris hopper and the vacuum fan to prevent dust from being pulled from the hopper and blown out the vacuum fan exhaust. The filter serves only to prevent dust from being blown out the fan and has no effect on the size of the particles removed from the roads.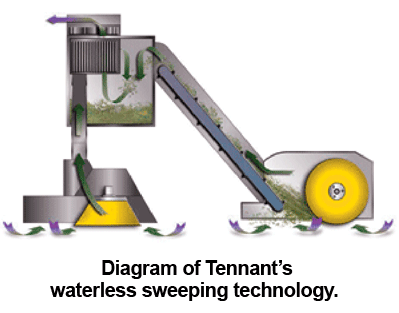 In an optimum combination sweeper, the majority of the dust that is "vacuumed" up falls into the hopper, and only a small amount of dust makes its way to the filter. This extends the time between cleaning cycles of the filter. When the filter becomes so restricted that the airflow is reduced to a level insufficient to draw dust under the skirts, the filter can be mechanically cleaned by an on-board cleaning system so the dust-free sweeping operation can continue.
Recirculating air sweepers use an industrial filter package that filters a small portion of the dust from the pressure side of the air system. This system relies on self-cleaning cyclone filters as well as cartridge filters that are cleaned by pulses of pressurized air.
Two large combination sweepers are currently certified with California's South Coast Air Quality Management District (SCAQMD) for totally waterless operation in compliance with Rule 1186 PM10 regulations. No air sweeper is currently certified for totally waterless operation because of the exposed gutter brooms.
The pros and cons
The advantages of these waterless sweepers are:
Greatly reduced water consumption
Reduced air pollution because of improved sweeping efficiency with small particles
Reduction of silt that can contribute to storm water pollution
The ability to sweep in freezing weather
The last item, sweeping in freezing weather, has resulted in a paradigm shift in cleaning practices in northern climates. Previously, sweeping was stopped in the fall when the ambient temperature fell below freezing and not started again until spring when warm weather returned.
Waterless sweeping allows the sweepers to be operated year-round when weather permits. This can allow cities to remove sand applied for traction before it can be ground up and cause air pollution. It can also let cities prevent the buildup of deposits in the curbs and center lanes that take large amounts of time and equipment to clean in the spring. In effect, the spring cleanup operation that those in snowy climates are familiar with can be greatly reduced.
There are some challenges with waterless sweeping technology. In the combination sweepers, the additional fan requires substantial power, necessitating larger engines capable of providing this power at slow sweeping speeds. This type of system lends itself to dual-engine sweepers in which the auxiliary engine can supply critical power regardless of travel speed.
Also, the amount of dust that's collected is quite amazing and can cause issues if it's not dumped properly. In freezing weather there is usually enough moisture present to reduce the free dust, but in dry, hot weather, slight amounts of water are required in the hoppers to dampen the dust. The amount of water needed to suppress the dust is approximately 50 gallons per hopper load.
Recirculating air sweepers to date do not use vacuumized enclosures on the gutter brooms. Since the gutter brooms contact the majority of the dirt that is swept, they can't operate in a truly waterless fashion on a road with curbs without generating dust.
Mainstream growth
In spite of the challenges, waterless sweeping has been widely accepted in the northern climates, especially in ski areas. The reason is that these areas tend to require large amounts of traction material because of the frequent snowstorms. Waterless sweeping cleans up the traction material between storms before it can be turned to dust by the large volumes of vehicle traffic.
Waterless sweeping also is gaining acceptance in the southern, parched areas of the United States, largely on the basis of its productivity gains. The water savings aspect is slowly becoming an issue in several key cities as the supply of fresh water nears a critical stage.
Elgin is seeing a push by cities to become more environmentally friendly, and water conservation is a key part of this. Municipalities are also looking for contractors who can deliver the same or better performance under these new stipulations and best practices.
Many people feel that being able to sweep with little or no water will be a very popular piece of the sweeping puzzle in the future. Contractors who want to stay ahead of the curve should be prepared for these sweeping changes.
Mark Kinter, a technical consultant with Elgin Sweeper Co., has more than 35 years of experience in the sweeping industry. Kinter presented a seminar entitled Waterless Sweeping: The Future Is Not All Wet in November of 2005 at National Pavement Expo West in Las Vegas, and in February of 2006, at National Pavement Expo in Charlotte, NC.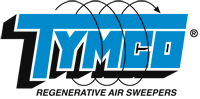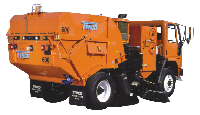 Bobby Johnson is Marketing Manager for Waco-based TYMCO, Inc., a leading manufacturer of regenerative air sweepers. Here's what he says about TYMCO's waterless sweeping technology, their model DST6: "Sales of our DST6 (Dustless Sweeping Technology) model regenerative air sweepers have become an important part of our business. We consider that the sales of our waterless DST6 machines have been very successful, in that we're having a strong repeat business to current customers. For those who need water-free operation in an air sweeper, our DST6 is the one machine in the U.S. marketplace that offers it."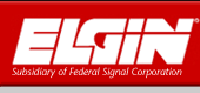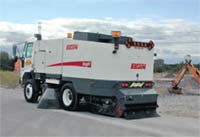 Elgin offers waterless configurations on both its Eagle and Pelican mechanical broom sweeper models. Mike Higgins is Director of Elgin Sweepers' Sales and Marketing. When asked to comment about Elgin's entrance into the waterless sweeping arena, Higgins said: "Elgin sees waterless sweeping as a market need that's driven by three primary factors, environmental concerns, water conservation and the ability to perform winter sweeping. These are what led us to develop our waterless sweeping system, and we're very satisfied with the reaction our customers have had to it."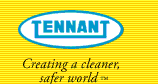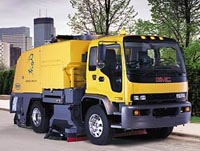 Bill Ruhr is Group Manager for Tennant's Centurion sweeper model, which offers a waterless sweeping option: "Our goal in providing a waterless operating system was to reduce the amount of water used for dust control in sweepers. In some applications, water is still needed, however we're proud to show that water usage can be dramatically reduced. We took indoor dust control technology we've been working on for half a century and mobilized it by including it on our large Centurion street sweeper. We're very proud that Tennant was the first to bring this innovation to the industry."