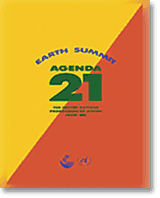 Despite its international scope, a surprising number of US public works officials are unaware of one of the most far-reaching guidelines available for evaluating street sweeping technologies and programs. The publication, called the "International Source Book on Environmentally Sound Technologies (ESTs) for Municipal Solid Waste Management," was initially developed as a result of the 1992 United Nations-sponsored Conference on Environment and Development (UNCED).
Agenda 21 is the portion of the resulting Rio Declaration on Environment and Development that includes the street sweeping program development guidelines. It was adopted by more than 178 governments at the Conference, and 'strongly reaffirmed' at the World Summit on Sustainable Development (WSSD) held in Johannesburg, South Africa in 2002. Its specific purpose is to promote the transfer and application of ESTs for improved management of municipal solid wastes.
Although the resulting Source Book is actually directed at developing countries, it provides a global insight on what are considered state-of-the-art ESTs for sweeping around the world, as well as for other municipal solid waste concerns. The publication provides a list of information sources as well as overviews of practices in different world regions relating to environmentally sound management of municipal solid waste. The chapter on sweeping is a fascinating read on how to evaluate the need for sweeping in a specific area, as well as how to set up a sweeping program, evaluate potential technology options, etc. If nothing more, it provides insight on how the job of sweeping is currently done in other areas of the world.
Significant parts of the Source Book can be viewed on the UN Department of Economic and Social Affairs website. For just the portion on street sweeping, click here.
There is also a searchable database within the website that contains contact information for nearly 300 organizations associated with municipal solid waste management around the world.
This article is reprinted from American Sweeper magazine, Volume 9 Number 1.