California Clean Air Agency Proposes New Lower Emission Requirements for Street Sweeper Engines
by Ranger Kidwell-Ross
Quick link to AQMD's current list of certified sweeper make/models.
The SCAQMD Board met on September 9, 2005, and recommended that an extension be given for use of diesel if an entity that otherwise would be required to purchase alternative fuel vehicles did not have a fueling station located within 5 miles of the vehicle's storage facility. Following is the synopsis of this information. Click here for the SCAQMD page the synopsis came from.

Proposed amendments to Rules 1186.1 and 1196 will extend sunset dates to allow the acquisition of non-rule compliant vehicles where an approved Technical Infeasibility Certification has been issued based on the unavailability of an alternative-fuel refueling station within five miles of the vehicle storage or maintenance yards.

The proposed amendments are in response to near-term public fleet heavy-duty vehicle acquisitions that are located in service areas where alternative fuel refueling stations do not yet exist. The proposed amendment for Rule 1186.1 would also allow approved Technical Infeasibility Certifications to be issued where alternative-fuel sweeper models do not exist for specific applications.
Southern California's South Coast Air Quality Management District (SCAQMD) was the first agency in the country to enact regulations that included a standard that sweepers in its area had to reach in terms of debris pickup and dust emissions efficiency. That ruling started the first-ever round of sweeper testing where passage of the agency's Rule 1186 testing process was required, in most cases, in order for a sweeper to be operated in the SCAQMD's Southern California regulatory area.

Then, in 2000, the agency put through Rule 1186.1. This statute additionally required certain public and private sweeper fleet operators to acquire alternative-fuel or otherwise less-polluting sweepers when purchasing or leasing these vehicles for sweeping operations undertaken by, or for, government entities in the jurisdiction of the SCAQMD. Rule 1186.1 was part of a set of rules collectively known as the Clean Fleet Rules, which affected a number of other types of vehicles as well as sweepers.
Last year the U.S. Supreme Court ruled that it appears likely that at least certain aspects of the fleet rules adopted by SCAQMD were federally preempted. In response to this decision, the SCAQMD requested that the California Air Resources Board (ARB) submit the District's rules to the United States Environmental Protection Agency for a waiver of preemption pursuant to section 209(b) of the Clean Air Act. On October 1, 2004, ARB requested public comment on the SCAQMD's request. ARB has completed its review of the comments submitted in response to the notice, and has consulted with the U.S.EPA regarding the legal requirements for obtaining a waiver of a rule adopted by a local government.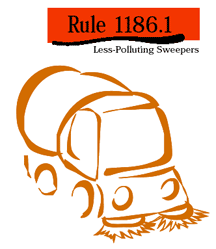 Based on this review, the ARB and the U.S. EPA concluded that these fleet rules, as written and adopted by the South Coast Air Quality Management District, might not receive a Section 209 waiver because they have not been adopted by the ARB as state regulations (applicable in the South Coast). ARB has accordingly decided to initiate a state rulemaking covering some of the fleets subject to the SCAQMD rules. This process will require a new public record that updates relevant information on the effectiveness and costs of these rules.
With concurrence from the District, ARB will limit the new near-term rulemaking process to four fleet rules that are likely to be most effective in controlling diesel engine emissions. Those rules, with their current SCAQMD identifiers are:
Rule 1186.1 Less-Polluting Sweepers
Rule 1192 Clean On-Road Transit Buses
Rule 1193 Clean On-Road Residential and Commercial Refuse Collection Vehicles
Rule 1195 Clean On-Road School Buses
Where possible, the South Coast provisions of these rules will be integrated into regulations already scheduled for consideration by the ARB. As it crafts the rules, the ARB will work closely with the SCAQMD in the information gathering process and with other logistics such as stakeholder meetings, identification of affected fleets, and understanding the current South Coast rules.
It should be noted that the Supreme Court decision applied to private fleets only, not public agencies or those who contract with them. The AQMD has continued to enforce its Rule 1186.1 statute for new purchases of sweepers.
On March 29, 2005, a conference call was held between Air Resources Board staff involved in the process and some leading members of the sweeping industry. Those from sweeping included in the call were Amy Allen, Administrative Director of naPSa; Mark Carter, past president of naPSa and operator of Southern California-based Bill's Sweeping; Rachel Gornowicz, current naPSa president; and myself, Ranger Kidwell-Ross, editor of WorldSweeper.com. Here is some of the information that came from that exchange.
Scott Rowland, who is Manager of the Retrofit Assessment Section at the Air Resources Board, presented most of the information during the call. "The old Rule 1186.1 assumed that non-diesel engines were the cleanest and required their purchase," Scott said. "We are now pointing to some reduced emissions' levels as targets, but won't require that someone uses alternative fueled engines to reach a target reduction. How the target is achieved doesn't matter.
"Currently, we are evaluating retrofits to existing engines, as compared to the previous requirement to purchase new alternative fuel engines. The new rule will mean, in essence, that if an end-user buys a retrofit kit from Company A, and applies it to a particular engine made by Company B that has a certain emissions output, and then the combination hits the targets we develop, they'll be in compliance. Currently, a diesel retrofit that would be capable of reducing the pollutants to the levels contemplated appears to be between $18,000 to $22,000, as compared to between $35,000 and $50,000 to move from diesel to CNG or LPG."
"To date, in many instances the capital costs (the differential between purchasing a diesel and a CNG-powered sweeper) have been covered by funding, however operational costs (cost differential in operating the engines, as well as building infrastructure and fueling stations) may or may not be covered, depending on the specifics of the funding programs. Anecdotally, CNG and LNG appear to cost more to operate than diesel engines, but propane-powered engines seem to cost less to operate. Currently, the South Coast rule does include exemptions for technical infeasibility, if, for instance, fueling is not available within 5 miles. The ARB rule will include provisions for similar exemptions.
"In our new direction, we are defining 'best available technology' as whatever meets the specs we come up with, not use of particular, alternative fuel engines. We don't rule out what diesel-powered engines may be shown to be capable of. We also don't want to end up with a moving target, such that if an engine technology comes out next week that's a bit better than what was available this week, then people have to move to it.
"The emissions' requirements are at one level for 2005/2006, however when the new engine emissions' standards occur in 2007 there will be new targets. It's in 2007 that the output levels become tricky for on-road diesel engine technology. Technically, the emissions standards are 0.2 grams of NOx per brake-horsepower hour (g/bhp-hr); however, there are averaging and other flexibility provisions for engine manufacturers that will likely result in engines being certified to a 1.2 gram per brake horsepower-hour level. The draft sweeper regulations indicate that a less-polluting sweeper could be defined in the range between 0.2 and 0.9 grams, an issue on which the ARB staff specifically request comment.
"Where appropriate, we want to encourage the cleanest engines we can. For example, the 0.9 g/bhp-hr level for 2007 is based on being able to buy 1.2 gram-emitting engines that can be retrofitted with emission control systems that reduce emissions by an additional 25%. Using this as an example, a sweeper user could be in compliance by purchasing a new diesel engine and retrofitting it.
"Cost is something the Board has to take into account, along with the anticipated benefits. Ultimately, what this is all about is the health of the people who are now breathing the pollutants. The estimated premature deaths per year caused by diesel pollution are around 2,900 in California, or about the same as the number of homicides. Our staff report, which will be issued once we determine what the final regulation will look like, will include the estimated cost-effectiveness in dollars per pound of pollutant reduced as well as overall cost."
The ARB's schedule will put all four fleet rules before the Board by its July 21-22, 2005 public meeting. A public workshop for the Sweeper rule was held on April 6th, 2005 at the ARB's El Monte facility to provide all stakeholders the opportunity to comment on the issues. Written comments are encouraged for those who couldnŐt attend. For more information, or to register, email Pablo Cicero, of the ARB, or call him at 626-350-6478.
The ARB's schedule will put all four fleet rules before the Board by its July 21-22, 2005 public meeting. A public workshop for the Sweeper rule was held on April 6th, 2005 at the ARB's El Monte facility to provide all stakeholders the opportunity to comment on the issues. Written comments are encouraged for those who couldnŐt attend. For more information, or to register, email Pablo Cicero, of the ARB, or call him at 626-350-6478.
If you'd like to read more about this development, here's the location for the portion of the ARB's website where the current rule-making effort is headquartered. Public comments are being solicited, and the fact is that regulations that start in California typically move eastward in short order. You may also want to download from our website the pdf file of the brochure the agency has made available.