Lakewood Street Sweepers: Cleaner Skies, Streets, and Waterways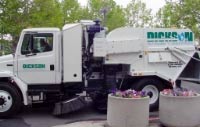 A commercial-grade compressed natural gas (CNG) fueling station for Lakewood vehicles is now open. The facility uses high-pressure pumping and storage equipment that allows CNG vehicles to be fueled quickly. CNG fueling stations are not widely available, partially due to the special equipment needed to compress the gas to a pressure as high as 4,500 pounds per square inch.
The facility is operated by RF Dickson Company, Lakewood's street sweeper contractor, and is located at the Bellflower Unified School District yard. It was built by a cooperative effort between Lakewood, the city's street sweeping contractor RF Dickson, the City of Bellflower and the Bellflower Unified School District. It is also open to the public.
"To meet AQMD mandates each agency will have to phase in more CNG vehicles as their existing gasoline and diesel units wear out. The project provides everyone involved a cost-effective way to meet the regulations and run greener vehicle fleets," according to Lakewood Public Works Director Lisa Rapp. "The ultimate results are that Lakewood is now running quieter street sweepers that cut air pollution output over 80-percent. So, we're running clean while cleaning up 24,000 pounds of debris a week--that's 12 tons at 4,929 pounds a day."
That's the amount of dust, debris, trash and gunk Lakewood street sweepers keep from getting washed into storm drains and ultimately the ocean every week.  Every weekday, two, and sometimes three, RF Dickson company street sweepers ply Lakewood's 9.5 square miles. They keep the city's 150 miles of roads and gutters clean. Considering there are two sides to every street, that's about 300 "curb miles."
Lakewood residents expect sweepers to help make neighborhoods cleaner by picking up fall leaves and miscellaneous debris along the curb. But since the year 2000, Lakewood's street sweepers have had more to worry about than simply sweeping the streets--they've had to work to fulfill stringent and costly air and water pollution rules requiring the city to switch its sweepers' fuel from diesel to CNG.
In  2000, the Air Quality Management District (AQMD) promulgated "Rule 1186.1 - Less-Polluting Sweepers." Like other AQMD mandates, these rules work to force public and private sector agencies to make changes that should result in cleaner air. Rule 1186.1 was only one part of a series of "fleet rules" mandating that vehicle fleets of local governments abandon their gasoline and diesel cars and trucks.  According to the AQMD, "To reduce both toxic and smog-forming air pollutants, the South Coast Air Quality Management District is seeking to gradually shift public agencies to low emission and alternative fuel vehicles."