Denver's Street Sweeping Program Includes Technology Advances

Denver's 34 street sweepers include the first electric sweeper in the United States; the Italian-made ride is smaller and only used to tidy up the protected bike lanes downtown.
by Shane Monaghan and Kevin J. Beaty with Ranger Kidwell-Ross – May 2019
Like many areas of the country, street sweeping in Denver is seasonal due to weather conditions. However, DPW does intermittent pavement scrubbing during the winter, weather permitting. Street sweeping typically runs April through November.
In 2019 the city of Denver, Colorado, began its residential seasonal street sweeping season on April 2nd. Last year, street sweeping crews in the city of Denver swept 175,161 lane miles of Denver streets and alleys. The 77,678 cubic yards of dirt and debris picked up by DPW street sweepers in 2018 – which is the highest mass of material collected since 2012 – was enough to fill Coors Field nearly twice over. To clean the streets an operator will travels between 30 and 36 miles a day from April through November, during its scheduled sweeping season.
Colorado has seen growing numbers of cars on the road in recent years, and with many of those in the Denver metro area it's likely that trend plays into increases in street pollution too. Beyond these sweeping efforts, the city is also working on some projects to install "green" storm drain systems that use gravel and plants to filter what the sweepers miss before that material might hit rivers and creeks.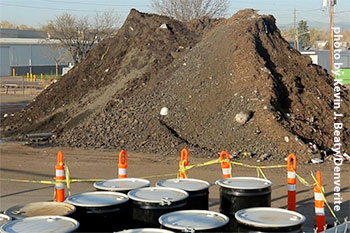 While the bulk of the material Public Works has collected is run-of-the-mill dirt, there are plenty of compounds within the collected masses that could cause concern. 2018's haul included almost 650,000 pounds of petro hydrocarbons, a type of chemical related to oil; 300,000 pounds of nitrogen, which comes from cars, power generation and farming in the region; and, about 95,000 pounds of phosphorous. Copper, lead, zinc, chloride and mercury were also represented, though in lower concentrations. The photo to the right represents just a few days worth of collections by Denver's street sweeping fleet.
Brad Cox, a stormwater system manager with Denver Public Works, said most of this stuff comes from vehicles on the road. There's a lot of friction within a car or a truck's internal mechanisms, so debris from brake pads and tires are likely culprits.
While sweeping is pretty effective, the clean-up is limited when cars are left on the roads, since much of the stuff sweepers aim to clean is found nestled right at the curb. On its website, the City provides educational information that advises its citizens that the DPW sweeping program "removes dirt, leaves and debris from city streets, which reduces air and water pollution and supports a clean environment." The City makes it clear that sweeping is about pollution control, since without street sweepers much of this could end up in the air Denverites breathe, or in watersheds after rain washes it into stormwater systems.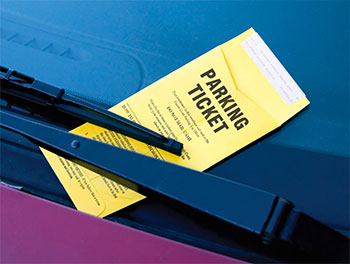 Public Works views street cleaning as a collaborative exercise between drivers and their sweepers, though they do use the threat of a ticket as incentive to keep the brushes spinning. In residential areas where vehicle removal is required, sweeping is done once per month. As reminders, the City posts signs in those residential areas as no-parking zones. Although non-compliance results in a $50 ticket, residents are reminded to "SHOW YOUR PRIDE AND MOVE YOUR RIDE" on sweeping day.
Residents may also sign up for sweeping reminders through a system called PocketGov, which was developed to assist residents in a variety of areas. The perceived problem was that the local government lacked an efficient way to provide its constituents with easy access to city information and the services they need, resulting in an overwhelming number of calls to the City's 311 system.
Mayor Michael Hancock helped launch Pocketgov.com in 2018, which has now become DenverŐs online service center. The website provides access to city services and information from anywhere, at any time, on any device. At the Pocketgov.com website, users can make a variety of payments, report potholes or graffiti, find property values, as well as sign up for customized services like street sweeping reminders and waste removal notifications – and much more. With new features rolling out every month based on citizen feedback, pocketgov.com is being touted as an innovative solution for direct, easy connections to the City of Denver.
The way the street sweeping portion works is that residents can enter their address into the system in order to receive a reminder about when the sweeper will be coming to their neighborhood. The City information is clear that any lapses in the reminder service will not be considered a valid defense if "reminders are not sent or are incorrectly sent, or incorrect information is displayed here. Posted parking restrictions take precedence over information provided through this service."
In 2018 the City and County of Denver collected around $8 million in 2018 from street-sweeping tickets, which are currently $50. More than 161,600 notices were issued last year, most in the dense central areas where alternate parking is most difficult to secure. The $8 million raised totaled about 2.5 times Denver's 2019 street-sweeping budget. However, that number may change in 2019 since over 12,000 Denver citizens have signed up through Pocketgov to get an alert the night before sweeping is scheduled to take place.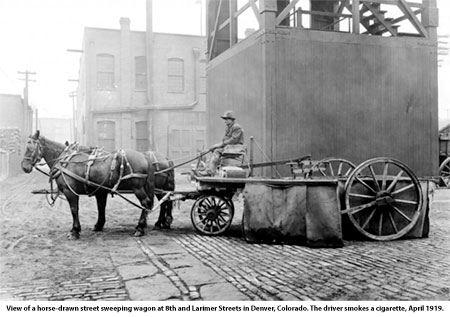 Above photo courtesy of Mile High Photo Company/Denver Public Library/Western History Collection/X-23689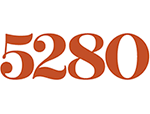 Some of the information for this article was first gleaned from an article by author Shane Monaghan, who wrote for the website 5280.com, a partner affiliate of Denver's ABC television news channel. Some statistics and info were courtesy of Colorado Public Radio News.
---