Cleaning up After the San Francisco Pride March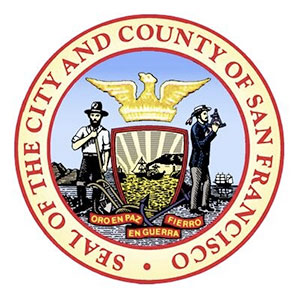 by Pria Mahadevan with Ranger Kidwell-Ross
posted July 2019
San Francisco Pride is a parade and festival held at the end of June each year in San Francisco, California, to celebrate the lesbian, gay, bisexual, and transgender (LGBT) people and their allies. The parade consists of hundreds of contingents from various groups and organizations.

This year marked the 49th annual edition of the parade, which is described on the official website as "the largest gathering of LGBT people and allies in the nation." As you might imagine, the cleanup after the parade is quite an undertaking...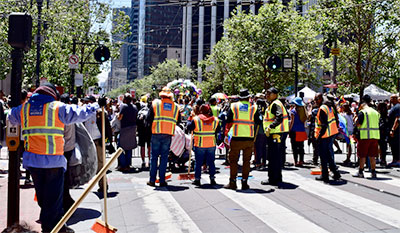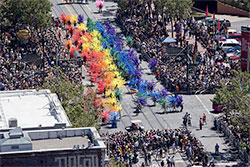 Nearly one million people were at the Pride March in San Francisco this past June. It's one of the biggest events in the city – but, after all is said and done, who cleans it all up?
After the last parade float cruises down Market Street, it may seem like that's the end of the show. But as it turns out, there are actually two parades.
"We start cleaning right following the last float... then, it's our own little parade of cleanup," says Peter Lau, Superintendent for Street and Environmental Services for San Francisco's Department of Public Works. He's in charge of everyday street cleaning for the whole city, as well as big events like Pride, Bay to Breakers, and the Chinese New Year Parade.
Peter works with a crew of almost 100 full-time staff from the Department of Public Works. They put in extra time to work the overnight Pride shift. "It's just full-blown, we're just cleaning up until 4am. It's nonstop," he says.
THE CLEAN-UP DANCE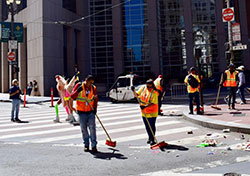 There's a whole, complicated choreography of who cleans what, when. It's like a dance. First, the corridor ambassadors enter, with brooms and leaf blowers. Their job is to move debris from the sidewalks and edges of the street into the middle of the road.
Then you've got the steamers, or people with manual power washers, who follow right behind.They hose down those sidewalks, pushing whatever they dislodge into the center of the street.
So, now you've got a pile of garbage in the center of the street. How does that help? Well, in come the street sweepers. These are the same trucks that you see doing daily street cleaning around the city. They vacuum up that pile of garbage. Street sweeper trucks can hold between five and ten tons of trash Ñ that might sound like a lot, but throughout the night, they have to keep emptying their load.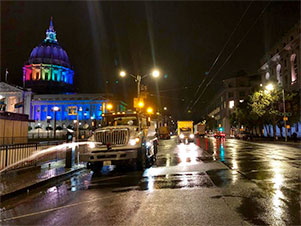 Finally, there comes the flusher. It's a lot like a street sweeper, but instead of sucking up garbage, it spews thousands of gallons of water onto the street. The idea is to cleanse the street of any remaining icky sticky stuff the street sweeper might've missed.
But, Pride is a little different than most events. Glitter and confetti won't just sit in a pile in the middle of the street for very long, especially if it's windy. So sometimes, the flusher will go through first to weigh down all that light fluffy stuff, and then the sweeper will swing by to catch it before it dries up. It's a delicate balancing act.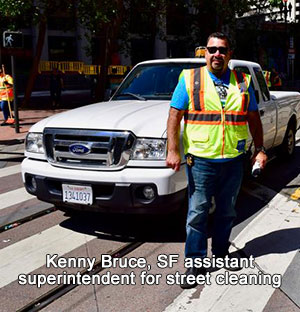 To see this all for myself, and meet the people who work their magic on the margins, I headed to the Embarcadero on Pride Sunday around noon to hang out with Public Works late into the night. The first person I meet is Kenny Bruce, Assistant Superintendent for street cleaning around the city. After 29 years with the Department of Public Works, Kenny is calm, confident, and assertive in his role, but also polite with his crew. He's got a goatee and sunglasses on, and he's always scanning the horizon for things that need to get done.
"It is just crazy, and that's the way it always is," he tells me. Today, Kenny is in charge of making sure everything goes as smoothly and quickly as possible at Market Street.
Kenny also introduces me to Guillermo Perez, who's stationed at the tail end of the clean up procession, making sure nothing gets left behind. "I take a little bit more pride in my job being that I was born and raised in San Francisco," Guillermo tells me. "Some people look at it as a job because they end up going back home, but at the end of the day, this is my home. I feel like I'm contributing back to my neighborhood, towards my city."
And then there's Milton Lau (no relation to the Peter Lau mentioned above). He's a corridor worker. We start talking during a delay in the Parade. While most of the crew waits for further instructions, Milton takes out a metal scraper and squats down to clean gum off the sidewalk.
Milton tells me that he's been homeless for over a decade. He's originally from Hawaii. "The reason why I came to 'Frisco is because I used to have a whole bunch of old gay friends, and I was hoping to meet up with them," Milton explains. "But unfortunately when I got here, I found out they either passed away or expired or something happened. And... they're just not here anymore."
Milton's bisexual, but he's not a big fan of Pride. He says he thinks it's just a big party now, and he feels like people today are indifferent to those who had to fight to get their rights. But, he likes working for Public Works. He says his dad was a firefighter, and he used to come home after work and relax by tidying up his garden. "I kind of grew up with that, and for me it's more like fun than actual work," he says.
I end up having many conversations with corridor workers like Milton about a whole range of topics – from spirituality to gentrification, to acceptance and identity. While most people are here to cheer for all the colorful floats and enthusiastic marchers, it feels like I'm witnessing a slightly different version of Pride. This is a slightly less glamorous celebration of what it looks like when people take pride in their work, and make something beautiful.
AFTER THE PARADE
Eventually, the Parade comes to a close. And that's when the cleaning crew really gets to work. They're doubling back and forth with street sweepers and flushers to get as much trash as they can off the streets.
I'm in Guillermo's truck, and the C.B. radio is going crazy. There's a lot of coordination happening between city departments, like SFPD and MTA, to make sure roads don't open too early and workers are safe.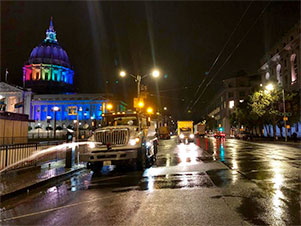 But things only get more hectic as the night goes on. As the crew begins to clean around City Hall, I meet up with Peter Lau. The meticulous choreography he told me about in his office looks a lot more chaotic in real life. He says, the tight area and tricky streets around Civic Center make it especially challenging. "It's just sort of how the night goes, we just sort of roll with it," he explains.
Peter jets from one task to another. He's breaking down barricades that were left up, moving around boxes, making sure the full sweeper trucks are emptied out. "And by four o'clock, it'll look like we were never here," Peter muses. That's what I kept hearing from this crew – the goal is to make it look like Pride never happened. That almost a million people didn't leave more than 70 thousand pounds of trash behind.
By Monday morning rush hour, the streets are back to normal, filled with buses, Ubers, pedestrians, and your garden-variety litterbugs. Soon enough, this street will need another cleaning... and Public Works will be back.
---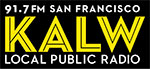 The material for this article came originally from a story by San Francisco's KALW Public Radio news outlet.
---