by Ranger Kidwell-Ross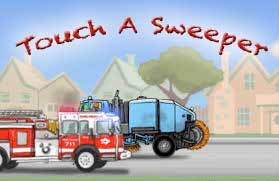 The fact is, most citizens do not realize the importance of sweeping streets for health and safety reasons, to say nothing of sweeping in order to keep pollutants out of the runoff system.

One of the ways to increase citizen awareness of the important job street sweepers do is to sponsor a public awareness event that includes at least one street sweeper along with targeted information to teach about why sweeping is a valuable service.
asdfasdf
Sweeper awareness events can do much to educate your community about the many reasons why street sweeping is an important service. This sort of event can be even more important if you're trying to instigate and/or maintain a parked car removal program as part of your sweeping service. In the U.S., one of the best times to schedule this type of event is in conjunction with the APWA's National Public Works Week, typically held in mid-May.
The following are outlines of what some different towns in the U.S. do. Most all are called 'Touch A Truck.' Note that sponsorship can be official by the public works department or city itself. Or, it might be sponsored as a fund-raiser by an organization that involves different city departments and other members of the community.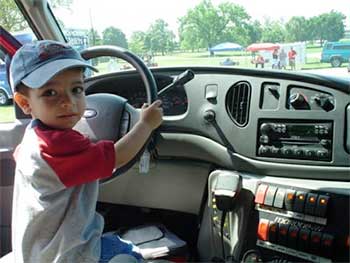 Springfield Township, Illinois, hosts an annual Touch-a-Truck event. This year the Township offered more than 50 different vehicles available viewing. Many more were open for kids of all ages to get inside.
Organizers say this is a great event where citizens can experience all types of construction, emergency response and other public works type equipment, in addition to street sweepers. Kids can sit in and climb on most of the equipment and can ask questions of the personnel who work with the equipment on a daily basis.
"It's a great opportunity to put our vehicles on display," Springfield Township Communications Coordinator Kim Flamm said, adding that the many township vehicles in addition to a sweeper at the event included a police SWAT truck, a helicopter, the fire safety trailer, trucks from Duke Energy, Rumpke, a race car, a front loader, a pavement roller, a limo, lots of construction trucks, a Metro bus and lots more.
Township organizers also included the Animal Friends Humane Society Mobile Adoption Unit at the 2015 event, as well as had hot air balloon demonstrations, but not rides, during the Touch A Truck event. Food was made available for purchase via the Gold Star Chilimobile and a Mr. Softee truck. A part of the proceeds from food vending benefited the Springfield Township Arts and Enrichment Council.
The Touch-A-Truck event in Sycamore, Illinois, was similar to that in Springfield Township, except equipment from more of the local community was additionally involved. In addition to a variety of city vehicles such as police cars, a fire truck, ambulance, street sweeper and a snowplow, local businesses provided 'vehicles of interest' as well. These included a wrecker, a bucket truck and garbage trucks from D.C. Trash of Illinois.
The City of Folsom, California, had its annual City Works Day on May 20th this year, in conjunction with National Public Works Awareness Week. Guests of all ages were invited to experience different facets of Folsom with hands on demos, equipment and personnel from a variety of city departments.
"[In addition to a sweeper,] many of our city departments participated by offering vehicles or displays to educate the community about their role in government and the services they provide including planning, building, operating and managing the city," said Christine Brainerd, communications manager for the City of Folsom.
Animal Services had animals to visit, Parks and Recreation hosted interactive games and a traffic signal was brought in to show visitors how big traffic signals really are. Some of the city vehicles present will include a garbage truck, street sweeper and transit buses. A life-size robot called Curby was there to teach the importance of recycling. Special giveaways this year included reusable City Works Day bags and bookmarks.
"(City Works Day) is an expansion of national Public Works Day and Public Works Week where across the nation cities and counties are recognizing the hard work of the men and women who keep all of our public infrastructure working," said David Miller, director of Public Works and Community Development for the City of Folsom. "This is a celebration and educational experience for kids of all ages to see the equipment and people who keep our streets paved, fight fires, remove trash and recycling, prevent flooding and provide for clean water to our creeks and rivers and so many other services." 
Lauren Ono, fire prevention officer with the Folsom Fire Department, said along with first responders, the fire department includes fire prevention services, the fire chief, engines and administration. A variety of personnel and vehicles from the fire department were also present including an air unit, rescue boat, fire truck and antique engine. The Folsom Police Department provided police motorcycles and horses from the mounted unit.
"We are excited to work alongside the rest of the community to improve our city," said Sergeant Andrew Bates of the Folsom Police Department. "Events like this show how much a community can accomplish when we come together." 
The above show the different types of community involvement that can be included in events of this type. At WorldSweeper, we recommend the sweeper portion include handouts and audio/visual information that discusses the value street sweeping provides in advancing the health and safety of a community, as well as the impact sweeping can have on reducing stormwater runoff pollution. If your city has a required car removal program when the sweeper goes by, be sure to emphasize why that's so important: For every car left parked, the sweeper misses at least three parking spaces as it has to move away from the curb and then come back to it.
The WorldSweeper.com website offers a handout that lists a number of reasons why streets need to be swept routinely. To make it easier for you to modify to suit your needs, this information is available both as a Word file and as a PDF file. If you have questions, please feel free to contact the WorldSweeper organization.