Scroll down to read three stories about Municipal, Public Works, and Airport Sweeping
by Belinda Chambers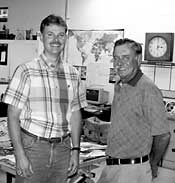 Steve Neill is director of public works for Yreka and, until his recent retirement, Ken Burbank was Yreka's vehicle maintenance supervisor.
Large cities and municipalities can afford to purchase several sweepers for multiple applications. However, when a sweeper 'fleet' consists of just one machine, it becomes much more critical to choose a make and model that is best matched for the needs of the entire organization. At the same time, the sweeper must provide as much versatility and dependability as possible. Often, the sweeper must be able handle a wide variety of debris and, if possible, double as a light catch basin cleaner or perform other duties.
When it comes to purchasing a sweeper, there are many choices available. In addition to the variety of manufacturers and models, a decision must be made between a regenerative air, vacuum or broom system, as well as choosing between a standard production chassis and one that's purpose-built, etc. Then, once those choices are made, there are additional decisions regarding which options should be included.
In this article, we track the decisionmaking of three different types of organizations, each of which had to pick a single sweeper that was most suited for their unique situation and needs.
---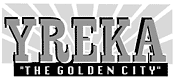 Yreka, CA, is located about 360 miles north of San Francisco. The city has the need for some amount of winter sand and cinder removal, and stormwater runoff pollution is an emerging issue for them. Steve Neill is director of public works for Yreka, and Ken Burbank was vehicle maintenance supervisor. The following is a synthesis of our interview with them.
Environmentally, we're starting to hear more about the PM-10 issue now. We know that the more small particulates we can get up off the ground and into our sweeper, the better. We primarily looked at regenerative air type sweepers, because they pick up smaller particles of dust than do the mechanical broom models. We've learned broom sweepers have a tendency to push dirt down into the cracks, rather than removing them. Then, leftover material can get into, and pollute, our waterways.
Another reason for deciding to go with a regenerative air sweeper was that it eliminates a lot of the problems and expense that are associated with a mechanical broom sweeper. Also, for us, a sweeper that is mounted on a standard production chassis is a definite plus. It allows us to get parts locally, from the parts stores or from the dealers. That's especially important when you're dealing with motors, pumps, bearings and drive units.
Another factor we looked at was the serviceability of the actual sweeper unit that's mounted on the cab and chassis. The ones we considered we felt had fewer, and better made, moving parts to contend with. The manufacturers of all of these sweeper units had gone so far as to make sure of the availability of standard items like bearings. In an emergency situation, we wanted to be able to buy them locally.
One of the main things we were looking for in a sweeper was its ability to help us with the crack-sealing program we recently started. We believe that a regenerative air sweeper may allow us to clean our streets thoroughly enough that we may not need a second crew with an air compressor to go ahead of the crack-sealing units and do the pre-cleaning. We are anticipating the change to a regenerative air machine will allow us to reduce the size of the crew we need for that job.
Hopper size was also a decision making factor. We wanted a mid-sized hopper so we could keep the sweeper out in the streets a little longer between dumps. So, we specified between 5.5 and 8 cubic yards to gain a little more sweeping time.
One of the other features we emphasized, in particular, was the sweeper's ability to clean uneven surfaces. We have standard curb-and-gutter here in town, but we also have rolled curb-and-gutter. However, many of our streets don't have either, so we must also deal with uneven surfaces and ragged edges. In addition, we have streets of varying cross slope and gutter sizes. Since we can only afford one sweeper, we had to choose one that's effective in a variety of curb, gutter and pavement edge configurations.
"If you're a big city, you can probably afford to buy a sweeper for one purpose only. But we have to buy one that can do everything, including leaves."
In our specs, we indicated that we wanted cab-operated, adjustable gutter brooms, and a full-floating sweeping head. Another important factor, especially in this community, is a sweeper's ability to pick up wet leaves in the fall. If you're a big city, you can probably afford to buy a sweeper or other dedicated machine for that purpose only. However, we have to buy one that can do everything, including leaves.
The ability to clean catch basins is also very important to us. We don't have a catch basin cleaner at this time, so we have to send out a man with a shovel to clean them out. We also have to use a shovel when we clean leaves and other debris off of the grates of catch basins. During the sweeper demos, we paid very close attention to the ability of each of the sweeper's remote hand hoses to perform both of those functions.
Driver comfort was another factor. We wanted to make sure the cab was comfortable enough that the driver still felt good sitting in it at the end of a work day. We also looked for simplicity in the control panel. We had our operator actually drive and operate the demo sweepers, so we could consider his input and recommendations when we made our final choice.
Throughout the selection process - including the development of the specifications - we tried to have a collaborative process that included not only us, but also our public works foreman, our operators and our mechanics. We wanted to consider the input of everyone who would be involved with the sweeper, rather than just one or two people. On as many of our sweeper demos as we could, we even had one or two of the mechanics go through the demonstrations with us. That way, they all got a feel for the individual machines, and could add their input, as well.
Large cities can probably afford to have a sweeper that satisfies each of the major tasks to be performed. But when you only have one sweeper, it's important to have the best sweeper available to satisfy the full spectrum of your sweeping needs, as well as the needs and criteria of everyone involved in the operation.
---
You may contact Steve Neill or Ken Burbank by sending email to: yrekabuilding@ snowcrest.net
---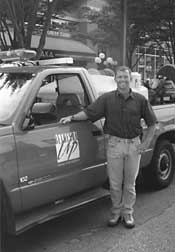 Bill Benoit, Bethesda Urban Partnership
Bill Benoit is the director of operations for Bethesda Urban Partnership, which is located in Bethesda, Maryland. Their sweeper is used to clean the downtown area of Bethesda, as well as the central core of several other nearby districts.
We're a nonprofit government instrumentality that was created about six years ago to maintain and promote the central business district in Bethesda. It's a 45-block area, so we've got about 26 linear curb miles to sweep. Sweeping is just one of our charges down here. We also collect trash from 165 receptacles, take care of about 1200 street trees, maintain half a million square feet of brick sidewalks, and plant about 60,000 flowers a year.
We also clean up after special events, like the Taste of Bethesda, which attracts about 30,000 people. It's a four-hour event where approximately 50 restaurants participate in a street festival. It's just one of the many major events we have here: 4th of July events, cultural arts for kids, sporting events, Bethesda Grand Prix (a major bicycle criterion race), and the Bethesda Chase, a 10K road race. We use our sweeper before and after every event.
Obviously, it's extremely important for us to have a sweeper we can count on. After an event, we have to get the streets reopened ASAP. We typically apply for street closure permits with a certain time limit. For the Taste of Bethesda, we close things off at 5 am and reopen at 8 pm, even though the event gets over at 5 pm. That gives us just three hours to get all the vendors, tents, and equipment out of there, get all the trash picked up, and then sweep. We absolutely have to have a sweeper that's reliable - one that's not going to break down.
We also offer a sweeping service for two other central business districts. We sweep our downtown three nights a week, and we sweep their downtowns three nights a week. So, we're running our sweeper six nights a week. Then, in the fall, we do leaf collection. Our sweeper has been invaluable for that purpose. Before, we were trying to use sidewalk sweepers, Billygoats, blowers, and tarps to get leaves up. Now we just blow them out into the street, right in front of the sweeper, and suck them up. Sometimes our sweeper runs eight hours a day, just for leaf collection. Then we give it an eight hour break, and run it eight plus hours at night, sweeping the downtown. So, there are a lot of times it gets used 16 hours a day. Since it's the only sweeper we have, it's got to be reliable. That's why we chose a Schwarze A4000. We were willing to spend a little extra money up front to buy a good machine with a lot of options. We believe it will provide us with cost savings down the road.
The A4000 suits our needs perfectly. We can sweep all three downtown areas, and still not fill its 4-yard hopper. That holds true about eight months out of the year. Then we get into the leaf season, and we definitely start filling it. In winter, we get a lot of salt and sand, so at times we have to dump three and four times a night, but most of the time we can make it through a full sweep, which is perfect for us. We don't want to waste a lot of time at night. We'd love to have an 8-yard hopper in the middle of winter, but there's no sense in having it the other nine months out of the year.
The hopper has a shaker, which is really helpful. When we dump, it shakes and vibrates everything out, which makes it a lot easier to get the hopper clean every night. Another plus to using an A4000 is that our drivers don't need a CDL. Sure, I'd love to have guys with their CDL, but I'd have to pay them more, and it requires more record keeping and administrative time.
Our A4000 is mounted on a 14,000 GVWR cabover GMC, so it's got great maneuverability. We've got parking bump-outs - nubs, or whatever you call them - that we've got to get into, as well as lots of corners. It's essential for the drivers' safety to be able to get into those corners and get the work done without having to get out of the cab. Our downtown is very safe at night, but there are other downtowns that aren't, so our drivers don't feel comfortable getting out of the truck cab.
We were also attracted to the A4000 because it is relatively quiet. It has a quieting technology [Schwarze's WhisperWheel system], as well as an insulated cover that surrounds the motor and the hopper. As a result, the noise output is substantially reduced compared to some of the other sweepers we drove. We have about 4000 residents who live in the downtown area, and we have to sweep right by their apartments and townhouses in the middle of the night, so decibel levels were definitely a factor in our choice of a sweeper.
---
You may reach Bill Benoit via email sent to: bbenoit@bethesda.org
---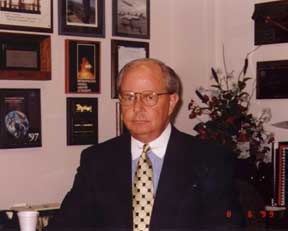 David Stremming, Metropolitan Topeka Airport Authority
As president of the Metropolitan Topeka Airport Authority, David Stremming heads the governing body for Forbes Field Airport, Philip Billard Airport, and the Topeka Air Industrial Park, a 450-acre infrastructure facility adjacent to Forbes Field, the commercial airport in Topeka, KS.
At our airport facilities, Forbes Field and Philip Billard Airport, the main focus of our sweeping is to capture all of what the airport industry terms 'foreign object debris,' commonly called 'FOD.' Removal of FOD is critical to the safety of both small and large aircraft. The smallest of debris, when thrown around at high speeds, can be devastating to a jet engine and the exterior of an aircraft.
The amount of pavement we sweep is daunting. For example, one runway is 12,900 feet long and 200 feet wide, and a secondary runway is 7,000 feet long and 150 feet wide. Then we have, literally, miles of taxiways and 100 acres of apron area. Obviously, this means considerable wear and tear on our sweeper. Because we can't afford a fleet, that one sweeper is extremely important to us. Reliability, durability and minimal maintenance are all critical factors in our sweeper choice. To us, even the hopper construction and design are important.
Because we can't afford a fleet, that one sweeper is extremely important to us. Reliability, durability and minimal maintenance are all critical factors in our sweeper choice.
Since we're not dealing with large trash or rocks, we chose to spec out a regenerative air type of sweeper. And, since the sweeper we eventually purchased was to be used on an airfield, gutter brooms - which are usually very standard equipment on that type of sweeper - weren't significant to us. If you're not working with curbs and gutters, the gutter broom is an added cost of little value.
A much more important factor, to us, was whether the sweeper could be modified to meet our unique needs. In fact, we're very proud of the fact that the sweeper we ended up purchasing - a Schwarze A7000 - was modified in such a way as to be the first of its kind to incorporate this specific design for an air nozzle.
The nozzle is mounted to the side of the sweeper, just in front of the sweeping head, and can work independently or in conjunction with the head. This feature allows us to drive down the side of a runway or taxiway and blow small debris off into the grass where it won't reenter the runway area. This eliminates a lot of wear and tear on paved areas, since our side area pavement is thinner than the heavier runway and apron areas.
We were fortunate enough to receive 90% government funding to purchase our sweeper. A few years ago, the FAA began to allow full funding for sweeper trucks. These discretionary and/or entitlement funds may be earned as a result of having a certain level of enplanements (passenger loads). If you operate a commercial airport, you need a minimum of 10,000 enplanements a year to qualify for this type of entitlement funding. With our passenger loads, we meet the criteria for the program. For example, an airport like Topeka might earn $400,000 to $500,000 a year of entitlement funds, while a larger airport like St. Louis might earn millions in entitlement funds.
Our funding came from a FAA program called an AIP, which stands for 'Airport Improvement Projects.' The AIP list is prioritized, based on safety issues. Normally, runway conditions are the highest of priorities, along with [others like] pavement, lighting, signage, fire-fighting equipment and snow-removal equipment. But, FOD and safety equipment are also high in priority. The FAA was willing to fund 90% of the cost of our sweeper because the machine met all of its AIP requirements.
The FAA is broken up into different regions. Each region receives X number of dollars each year to distribute between the airports in their region. Certain regions receive more money because they have larger airports and larger traffic needs. We're in the central region, which is about a five-state area. Airports in each region submit their applications for funding to the FAA. The FAA then determines whether a particular airport qualifies for either entitlement funds or discretionary funds. For example, Forbes Field qualifies for entitlement funds, but Philip Billard doesn't. However, Phillip Billard is eligible for discretionary funds. These are distributed by the FAA, either at the state level or the federal level, depending on the airport, e.g., if it supports a certain type of aircraft, the amount of aircraft based at the airport, etc.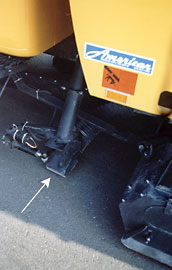 The arrow shows the air blast nozzle installed in front of the head on the A7000 sweeper.
The FAA made it very clear to us that we could not specify a product that was only available from a sole source. We also had to make sure there was a certain type of transmission and engine size. Because we don't have a fleet of sweepers, a real concern for us was the durability of the equipment. In that regard, we've been pleased with the Schwarze A7000 so far. It is mounted on a standard chassis, and has been working well for us.
TSince we have such large areas of pavement to sweep, and such a limited amount of equipment, this design definitely enables us to sweep more efficiently. While the sweeper takes care of debris in its path, at the same time we have the option of blowing the debris on the left side of the machine into rows about 30 to 50 feet over. So, instead of having to vacuum every square foot of area, the A7000's independent, side-directed air nozzle allows us to move the dirt such that we can cut down on our lap rotation. And, as previously mentioned, we can also blow smaller 'edge debris' off into the grass if the situation warrants it.
---
You may reach David Stremming via email sent to: dstremming@mtaa-topeka.org.
This article is reprinted from American Sweeper magazine, Volume 7 Number 2.