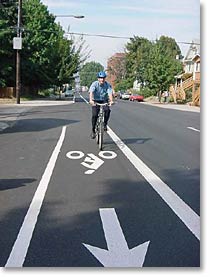 Portland, Oregon, is one of the bicycle meccas of the west coast, with 153 centerline miles of bicycle lanes in the city, both single lane and bi-directional. Vehicular traffic tends to propel road debris to the curbline where it lies in wait for the next sweeper. In bike lanes, however, this litter 'migration' occurs more slowly, posing a substantial safety hazard for cyclists. So, Portland's Office of Transportation has taken an innovative approach to keeping their bike lanes passable. Roger Geller, bicycle coordinator with the city, provides an overview of how the project started and where it is today.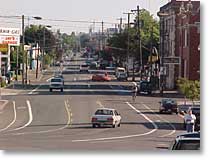 "Beginning in the early 1990s we set out to find a way to reduce the length of time debris remained in our bicycle lanes. We developed a mail-in card system, through which members of the public could alert us to minor maintenance needs on city bikeways. We distributed the cards at bike shops and at public events. The cards encouraged people to mail us the card if they knew of minor maintenance that was needed on the city's bikeways.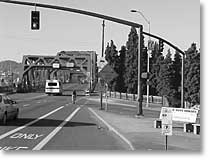 "Then, some years later when we developed a website, we put in a link so people could also request sweeping via the website. A couple of years ago, we modified our card to encourage people to call our maintenance department directly when sweeping or patching was needed. This shortens the timeframe in which we can react. We also have a voice mailbox in our office that people can call to let us know of problems in the roadway. So, at the moment there are 3 ways to contact us, by mail-in card, via phone or on the Internet.
"Portland's crews are out sweeping every night. Although their routes are pre-determined, whenever a problem area surfaces they make a best effort to take care of it right away. Even though we do our best to keep our streets free of debris, it's perhaps even more important to keep our bicycle lanes clear, since a bicycle is more likely to have trouble when the tire hits some kind of foreign object. We want to be as responsive as we can to keep the bike lanes debris-free."
---
Roger Geller is bicycle coordinator for Portland, OR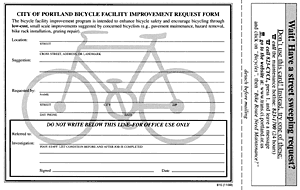 This article is reprinted from American Sweeper magazine, Volume 9 Number 1, 2003.