by Belinda Chambers

Hidden within the Midwestern landscape of the United States lies the not-so-sleepy small town of Nashville, Indiana. Occupying less than one square mile of turf, and home to a mere 800 full-time residents, Nashville boasts over 300 art, craft, antique and specialty gift shops, and hosts a staggering three million visitors every year. It's the tourism Mecca of Brown County and a power-shopper's paradise.

Accompanying this formidable influx of tourism comes a corresponding amount of litter. Nashville has two street sweepers, a small Tennant and a larger Johnston, but the Tennant is in need of repair. Understandably, with so many visitors strolling the streets of Nashville every day and only one sweeper in working order, some of the litter slips through the municipal cracks.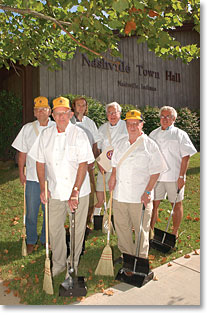 Left to right: Darrel Kramer, Phil Slusser, John Mejaski, Stu Huffman, John Davis and Rich Greeno. Participants not available for photo are Pete Sebert, Terry Woodhouse and Charles Stotler. Photo credit: Rodney A. Margison/Brown County Democrat.
Enter John Davis, citizen extraordinaire. 75-year-old Davis is currently a member of his local Lions Club, and has previously been a board member on several other Nashville organizations including the Chamber of Commerce, the Community Foundation and a stint as president of the Town Council. Prior to his 14-year residence in Nashville, Davis served his larger community as a teacher in South Bend, a college professor at Indiana University and a member of Indiana's state board of education. Davis also developed one of the state of Indiana's largest science teacher organizations, comprised of over 3,000 members.
While enjoying his daily walks through town, Davis began noticing the litter accumulating along his city's streets. It didn't take long for a brainstorm to formulate in his civic-minded consciousness. "I'll sweep the streets myself!" thought Davis. Then, upon further pondering, he realized the job was a little too big for one person, and decided to solicit help from his fellow Lions Club members.
"My idea was to replicate the street sweepers of my childhood—men who dressed in white jackets and used push brooms to clean our streets. Back then, we didn't have these big mechanical sweepers like we do now."
"I took my idea to the Town Council," Davis continues. I needed funding for enough jackets and brooms to outfit ten men. The Council was very supportive and gave me the $500 I asked for. We got nice white coats with our Lions emblem on them, and we wear our Lions caps, as well. We look pretty official out there."
But, Davis' brainstorm didn't end there. His broader vision was for the Lions Club sweepers to also greet the many visitors to Nashville, and provide them with helpful information. "We each carry a pouch that contains the Brown County Almanac," reports Davis. "It's full of stories about Nashville and Brown County, plus a map of the area and information about all the shops. We haven't yet come up with an official name for what we do, but right now we're calling ourselves 'Ambassadors.'
"The people on the street have been unreal. Today, I had five or six people stop me to remark about how clean the streets are here. Someone said that the only place they'd seen anything like it was Disney World. It's been a heck of a lot of fun, and we've really been well received. Even the residents are talking about how different it looks."
Somewhat of a local world traveler, Davis has lived in many cities across the US. "My dad was a construction superintendent," recalls Davis, "so my family moved around quite a bit. I attended 13 different schools as a kid." Given his worldliness, it's no surprise that Davis meets a familiar face every once in awhile. "The other day, a couple walked past me, looking the other way. I said, 'Good afternoon! How are you people?' All of a sudden, the woman whirled around and gasped, 'Mr. Davis!' It turns out that she was a student of mine in the 8th grade, back in 1959 when I taught in South Bend. She'd also been in two of my classes when I taught at Indiana University. She said, 'I wasn't paying attention, but I recognized your voice.'"
"I try to speak to everyone I approach," says Davis. "Today, I had a nice conversation with a couple who was visiting some friends in Edinsburg, Indiana. The man spoke such good English, it was hard to believe him when he said they were from Norway.
"This has been a lot more fun than I thought it would be. And, it's a great opportunity for the Lions Club to give something back to our local merchants who we solicit donations from. I was getting tired of just going to meetings all the time. And, since my wife died, I am enjoying having so many nice folks to talk to."
John Davis and his fellow Lions Club sweepers are to be commended for their initiative to provide Nashville's residents and visitors with a clean and pleasant environment to enjoy. Our hats are off to these prideful example-setters.
Note: Thanks to Jan Rickey, CEO and Executive Director of the Brown County Community YMCA, for giving us a heads-up on the Nashville Lions Club sweepers. If you are aware of an innovative sweeping technology being used in your town, please contact our editor, Ranger, via email: editor@worldsweeper.com, or phone: 360.724.7355.
This article is reprinted from American Sweeper magazine, Volume 9 Number 2, 2004.