Portland municipal sweeping corps do their best to be environmental leaders as well as wring out big savings.
by Wendlyn Alter
---
Since this article was printed in 1994, a number of changes have taken place in how Portland, Oregon conducts its sweeping operation. The Portland sweeping department invites you to see online how their program is conducted now.
---
"As far as street sweepings go, we recycle anything and everything we get our hands on," asserts Joe Thomas, operations manager for street cleaning for the city of Portland, Oregon. Started five years ago on a trial basis, the street cleaning department's recycling experiment has evolved into "a very effective, efficient program; definitely a cost-saving factor." Thomas and his crew have trimmed their former $5000/day in dump fees down to about $800 a week. And they recoup recycling costs by selling clean fill dirt and compost to an eager market.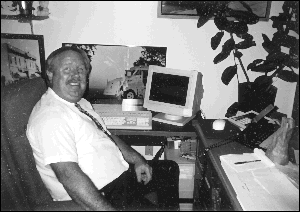 Rather than hauling sweepings directly to the dump, drivers return the debris to a processing site where it goes through a series of shaker screens. The larger rocks are run through a rock crusher. Plastic, paper and vegetation are hauled off to a dump site. What's left is processed through a portable hot plant (an asphalt plant equipped with a conveyor) to remove all impurities. The result is clean landfill material which people are willing to pay for. "June through August we used to have several thousand yards out there, and now it's surprising if we have 40 yards at any one time. We can get rid of it that quickly."
During the icy winter season, recycling has substantially reduced the cost of the quarter-minus gravel used for road traction. By reusing it, the division can go for years without having to buy new gravel. "On the average year, we'll probably go through about 75,000 cu. yds," estimates Thomas. "At $19/cu. yd. (new), that adds up fast. Figuring the hauling, it's pretty expensive. We're recycling it, reusing it, at $7/cu. yd." The gravel may stay on the pavement through several storms and be ground off the side of the road by cars before being picked up, full of debris. Thomas has found that sweeping in tandem mode is the best way to retrieve the gravel. First, a broom sweeper gets the heavy material, then an air sweeper follows behind. This is especially important in cold weather, Thomas points out, because in freezing temperatures, "you can't use water trucks. Then you've got a dust problem. As soon as you pick that rock up, I mean as soon as you can, go after with an air machine, because that'll be the time that's the least dusty. In a tandem mode, you get about 80-85% of the debris that's out there."
Back at the yard, the swept-up gravel is passed through a shaker screen, then washed and screened again. Fines, which develop as the gravel wears down, come out in the washing plant where they are retrieved and sold for $4/cu. yd. to organic gardeners and people putting in lawns. "You don't really want to use it as backfill material because it's too rich. You're just wasting a good product." The fines are in such demand that the division sells the wash product as fast as they make it.
Portland's gravel retrieval program works so well, in fact, that the Oregon State Highway Department cuts its costs by delivering its sweepings to the city's processing site instead of the landfill -- then buys back the recycled gravel from Portland at $19/cu. yd.!
Autumn leaves provide another means of recouping costs. Thomas' street cleaning division has responsibility for disposing of the leaves -- 250,000 cu. yds. of them each year -- from the city of Portland's many trees. Rather than landfilling them, the crew collects the leaves at a 20-acre compost site. Piled on pads in windrows 12' high and 2,300' long, the leaves are turned once a month or when the internal temperature reaches 180° F. When the decomposing leaves have 'cooked' down sufficiently, the rich material is passed through a screener. This compost sells like hotcakes at $8/cu. yd.
Even sidewalk sweepings are no longer landfilled. After passing through a rock crusher, the material is used by the highway department for shoulders and backfill.
Thomas has another cost-saving improvement in the plans. He figures that of the $800/load cost to landfill the unrecyclable material from sweepings, $200 of that is due to the water weight in the debris. To reduce that unnecessary cost, the department is mounting blast orifices on a drum turner (a 25' long cylinder). Sweeper loads will pass through the drum as their first processing step. As the sweepings tumble through, heaters will cook out the moisture, turning mud to saleable dirt and drying the unreclaimable debris to reduce its weight and its cost to landfill.
Some states have laws preventing the use of sweepings as clean fill, but Oregon permits the use of material that has tested clean. "We test our products all the time," says Thomas. "We test everything -- rock that we pick up for snow and ice, we test the leaves, we test the debris that we're hauling out of here for backfill material, cover material -- we test it all." Random samples of debris are collected and sent to a chemical lab to be tested for lead, asbestos, and other toxic materials. Under normal sweeping schedules (35-40 working days), the results are coming back well below EPA levels, so the material can be used without restriction.
Frequent sweeping is necessary to achieve this low toxic level, however. As an experiment, the department left one street unswept (after getting the approval of the neighborhood for the test) for three and a half months. "When we picked that material up, we tested a box of that, and that stuff did everything but glow at night ...it had a very high lead content. The longer you leave this stuff sit on the road, the more chance you have of a toxic material. This is why I'm dead set for street sweeping to cycle around more often."
Portland's recycling sweepings program is so successful that the State of Oregon is eager to develop a joint venture -- the state delivers its debris, and Portland processes it. But, as Thomas points out, although recycling is cost-effective, it is a manpower-intensive process. The city alone generates 140 yards of sweepings per shift, all of which must be run through shakers and the hot plant. The rock crusher and the washing plant must be operated. The composting leaves must be monitored for temperature and turned throughout the winter. Cost savings from recycling can profitably be returned to the department to increase sweeping frequency and to strengthen the recycling program, which has 'borrowed' workers from other sections.
The resourcefulness of the workers has been essential to the success of Portland's sweeping recycling program. "What I try to do when we sell a program is to get the sweeper drivers involved. They have some damn good ideas. I tell them, 'Hey, it's your ballgame, guys, what do you want to do? How do you want to do it?' and then sit back and listen. Sooner or later they'll come up with some fantastic ideas." Thomas manages 68 workers in Portland's street cleaning department. Because he can offer his employees good pay, benefits, and overtime, he can recruit motivated individuals interested in contributing creative ideas. v For the city of Portland, the system is a sound investment. Thomas figures that at the new lower rates of dumping, they will continue to have landfill space for another 50 years. "As long as we keep the process going like we have, and as long as we keep testing it and it's a sound product, we've got places to put it. We can get rid of dirt; dirt is a commodity, everybody wants a good load of dirt. The main thing is to cut the dump costs down."
This article is reprinted from American Sweeper magazine, v3n1 1992.