by Kathy Sheehan

The 65-acre market in Forest Park, GA, operates 24 hours a day, seven days a week, shutting down only for Christmas. Owned by the state Agriculture Department, it serves as a central, commercial food district for farmers throughout the state.
---
Thousands of people shop or work at the farmers market every week, spitting peach pits into the gutters, tossing cardboard and wooden crates into the overflowing dumpsters, and washing spoiled lettuce leaves off the loading docks and into overburdened storm drains.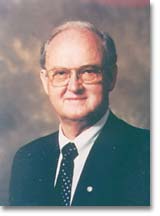 Thomas Irvin, Georgia Commissioner of Agriculture
The market is home to hundreds of outdoor stands where farmers sell local watermelons, string beans, lettuce, tomatoes and Georgia's famous peaches to many of the 3 million Atlanta-area residents who want fresh produce.
Hundreds of refrigerator warehouses are also on the site, receiving and shipping fruit and vegetables around the clock. Food factories are scattered throughout the hilly, paved terrain, employing shift workers who slice and mix up cole slaw, can stewed tomatoes and package other foodstuffs bound for the local Piggly-Wiggly and beyond.
Christmas trees take over most of the property in December, but flats of landscaping plants and pots of flowering trees fill about 20 percent of the market all year round.
State officials use the Forest Park market and its sister markets in Macon, Savannah, Columbus and elsewhere to promote a 'peachy clean' image across the state. But keeping the market free of everyday dust along with rotting fruit, spilled topsoil and broken crating materials has been a daunting task.
"It's been a struggle to say the least, when you have that many people, to keep it as clean as you'd like to keep it," says Georgia Commissioner of Agriculture Tommy Irvin.
How clean does it have to be?
"We have promotions going on here in our state year round about keeping the edges of our highway clean," says Irvin, an elected official in Georgia for 32 years.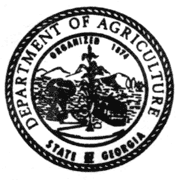 The 'Seal of the Farmer's Market.'
It's common to see members of civic groups and individuals adopt highways and pick up trash. "Beautiful highways, beautiful public facilities create an outstanding image for any state," he says.
In total, the state owns 147 acres of farmers markets, amounting to one of the largest farmers market networks in the United States. Promotion of the state's agricultural products, including the watermelons that come from the largest watermelon-distribution center in the country the state farmers' market in Cordele, GA, also necessitates a sparkling clean facility, one absolutely free from the stench of spoiled food.
"And since this is such a huge facility, and it has such a tremendous amount of traffic, to keep it clean will create a very positive image for our state and for our department," he says.
Image isn't the only concern, though. Unlike a highway or a mall parking lot, a farmers market handles mass quantities of food for human consumption, so there are health and sanitation concerns to consider as well.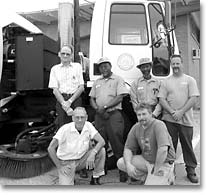 Standing from left: Don Broome, Leonard Bowles, Hope Bennett, Chris Ezell. Kneeling from left: Charles Hensley and Robert Akins. This picture was taken in front of the maintenance facility for the Farmer's Market, located in Forest Park, GA. The white seal is on the door of the truck and indicative of the fact that the unit belongs to the Agriculture Department, state of GA. All other vehicles in the state fleet have similar decals.
After recently purchasing a regenerative air Schwarze A7000 sweeper for use at all the state farmers markets from the local dealer, Municipal Equipment Sales, Irvin believes the farmers markets will meet and surpass the sanitation tests.
Not only does the sweeper pick up the large mounds of debris that accumulate even after individual vendors dispose of their waste, but it also picks up and contains the small-micron materials, using a closed regenerative air sweeping chamber that keeps germs and fine dust away from the food products.
State workers can drive the air sweeper, which is mounted on a Sterling SE8000 chassis, clear across the state to reach each of the farmers markets; it can travel at speeds of up to 75 m.p.h. Once they reach one of the farmers markets, the operator simply activates the sweeper to clean up miles of pavement, gutters and curbs overflowing with rotting produce and every conceivable type of debris.
One reason they chose this particular sweeper was the machine's 8.4 cubic yard hopper. This allows the sweeper to sweep the Macon and Columbus markets and still be able to return to Atlanta at the end of the day to dump its load.
Another factor cited for choosing this sweeper was its 14-inch-wide blast and suction hoses. Market management felt the larger hose size was needed in order to handle large pieces of crating materials and the mounds of squished and spoiled watermelons that are prone to clog municipal drains. They also chose a hand-hose option, so the machine can be used to clean out the underground storm drains, as well as to suck up waste that would otherwise collect in corners and eventually plug the drainage system.
They also equipped the sweeper with a heavy-duty tow hitch so they can tow a pickup truck behind it. That way, if sweeping keeps personnel overnight, or if they have other public business to do while they're outside Atlanta, the pickup may be used for local transportation.
About the only thing the sweeper can't do is pick up large debris too big for the sweeper's hoses or scoop up waste when it's piled in a space too small for the sweeper and too far for the handhose to reach. Irvin says the state, in an effort to make the facilities the cleanest and most beautiful in the South, plans to begin using prison labor as ground support workers for those tasks.
Rather than being a nightmarish job, the ongoing task of keeping up the peachy clean image at Georgia's farmers markets has become a dream.
---
Kathy Sheehan was a reporter for the Philadelphia Daily News for 15 years before becoming a freelance writer and occasional charter boat captain.
This article is reprinted from American Sweeper magazine, Volume 8 Number 1.