by Ranger Kidwell-Ross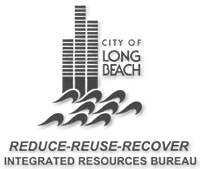 The following interview is with Jim Kuhl, the Bureau Manager for Sweeping at the City of Long Beach, California.
---
WORLD SWEEPER: When it comes to a sweeping program, what has the City of Long Beach done that you think makes it an organization that is competitive and professional?
Jim Kuhl: We sweep all streets in the City of Long Beach on a weekly basis, which is somewhat unusual. Our surveys have found that most cities sweep every other week, or less.
WORLD SWEEPER: How many miles are you sweeping?
Jim Kuhl: We sweep about 16-17,000 miles a month in the City of Long Beach. Since we are a beach community with limited off street parking, we have developed a unique approach to accommodate residential parking needs. We will sweep one side of a particular street on a Thursday and return the next day to sweep the opposite side. Obviously it is more expensive to travel that street on two separate days, but we have to make concessions to ensure ample availability of parking for our residents.
The Street Sweeping Division operates on a 4/10 work schedule. Our employees start at 5:30 am and work until 3:30 pm. We divided the City in half, so one-half of the City is swept on Tuesday and Wednesday and the other half is swept on Thursday and Friday.
Along with our sweeping program, we have parking control checkers that follow all of the sweepers. They are responsible for issuing citations to any vehicle blocking the path of the sweeper. The citations serve to encourage people to move their vehicles on street sweeping days. We issue about 170-180,000 tickets a year.
Because we live on the beach, we are especially concerned about litter getting into the storm drains and ending up on our beaches and waterways, so it is quite important for us to get cars out of the way so we can do an effective sweep.
We collect about 16,000 tons of debris annually from the sweeping operation. About 95% of that debris gets sent to a composting facility where it is used for agricultural purposes.
Our city has a distinctive bureau that incorporates the street sweeping division with the refuse collection and recycling divisions. The combined bureau is responsible for meeting state recycling mandates. In California, each city must make a 50% reduction in the amount of trash going to landfills by the end of this year, 2000, as compared to the 1990 level. The Integrated Waste Management Act of 1989, also called Assembly Bill 939, mandates this. When we were looking at our street sweeping operation we saw an opportunity to clean up our debris by removing the non-biodegradable materials, then having our debris composted. This has been very successful for us. So, we started composting our street debris as a way to help achieve AB939 compliance and found that it actually saves us a little bit of money at the same time.
WORLD SWEEPER: Can you tell more about that process?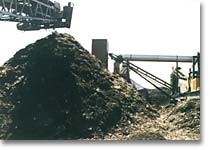 First, sweepings are screened, as shown above. The final step in the process renders the material ready for composting, below.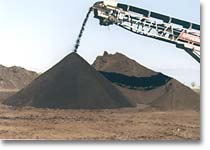 Jim Kuhl: It is a fairly simple process, but because of the variety of materials that are collected, street sweeping debris requires a certain level of refining before it can be composted, as compared to green waste or tree-trimming debris that can go directly to compost. The material is first sent to a facility where it goes through a screening system that shakes out and separates the dirt and sand from any inorganic materials. Next, all of the cans and bottles are separated out. Then, any other debris that cannot be composted, from shoes to Styrofoam, are pulled out, and the rest of the material, including all of the organics and paper, are com-posted. Finally, the additional step of removing the contaminants completes the process.
WORLD SWEEPER: You must have had testing done on the debris along the way. Have you found any need to pretreat it for toxics?
Jim Kuhl: Before we started the program Citywide, we ran a pilot program to test the debris. Test results indicated that all of the debris was within acceptable standards established by the State of California for composting materials. Ongoing testing has confirmed our initial findings. We are happy that the test results allow us to compost the material.
WORLD SWEEPER: What then happens with the material? Are you able to sell it?
Jim Kuhl: Actually, we turn the material over to a contractor, and they are responsible for composting and selling it to agricultural interests. In fact, I have tasted grapes grown in the compost and they are some of the best grapes you've ever had.
WORLD SWEEPER: You say the program has even become profitable?
Jim Kuhl: In essence, you can say it has been profitable for the City, in that it has saved taxpayers' money. The debris program originally required four dump trucks for the sweepers to dump into. When a truck was full, usually 3-5 tons, staff would drive the debris to a local transfer station. Then, we switched to roll-off boxes. We take the roll-off boxes out, and set them around the City for the sweepers to dump into. When the boxes are full, 6-7 tons, roll-off trucks take them to a storage location. The contractor picks them up and hauls them to his facility. So we were able to eliminate one dump truck and driver position. Getting down to three units from four, we save about $100,000 a year between the cost of the employee and operating the vehicle. Actually, we received new bids this week for debris removal, and the bids indicate that we'll save another $150,000 on our disposal costs. Based on the new bids, the City should save about $250,000 a year in disposal and personnel costs. This is a 25% saving in our debris removal and disposal cost.
WORLD SWEEPER: This was your savings when compared to standard debris pickup and then dumping into landfills?
Jim Kuhl: Right. The new debris collection process, which provided us with the option to use other disposal and composting facilities, has led to more competition between bidders and, in turn, provides additional cost savings for the City of Long Beach.
WORLD SWEEPER: Isn't Long Beach also involved in another innovative project, sweeping for a neighboring city?
Jim Kuhl: Yes, currently we contract with the City of Signal Hill, which is actually a small city that is totally surrounded by the City of Long Beach. We are now in the third year of a three-year contract. While it is somewhat unusual for cities to provide contract services to other cities, Long Beach has a history of providing contracted services to the City of Signal Hill. At the present time we provide their fire protection, traffic signal maintenance, shortwave radio and other services. So, when the opportunity presented itself, we submitted a bid for street sweeping.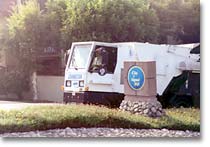 Long Beach operators are currently sweeping the City of Signal Hill with a Johnston air sweeper.
Signal Hill only has 20 curb-miles of sweeping per week. Since we were already sweeping more than 4,000 miles a week, it was fairly easy to incorporate Signal Hill's needs into our existing routes. An additional 20 miles per week, spread over our 20-sweeper fleet, is not a lot of mileage to add. Because we were able to incorporate Signal Hill's sweeping into our routes at a very minimal cost, we were able to provide them with a bid that beat the local sweeping companies, which is not usually the case.
WORLD SWEEPER: Has the Signal Hill sweeping program remained successful throughout the three years, and is that part of your composting program also?
Jim Kuhl: Very successful. One of the requirements Signal Hill put into its bid was that sweeping debris be composted. So, we tag their debris right into our program. However, we do keep a separate tally of how much debris we are collecting and composting for Signal Hill. We do that so they can get credit for it under their own recycling requirements.
WORLD SWEEPER: You mentioned that you operate 20 sweepers. What kind of mix is there between sweeper types, are there more regenerative air or mechanical broom machines?
Jim Kuhl: We run 12 brooms and 8 regenerative air. We use the air machines in certain areas. For example, Signal Hill specified cleaning with a regenerative air sweeper. We generally run the regenerative airs in the areas of the City that have lighter debris, as they are less effective than broom machines on heavy debris.
WORLD SWEEPER: Have you been affected by the mandates to pick up more small-micron debris?
Jim Kuhl: The L.A. County area is under what is called Rule 1186, which is a PM-10 compliance mandate targeting small-micron debris. We have two more years before we start replacing sweepers, so we have not actually purchased any that are certified by the South Coast Air Quality Management District (AQMD), the agency that does the testing. Whatever new sweepers we purchase in the future must come from the list of Rule 1186-compliant machines.
The other issue we are dealing with is that our local air district is also mandating the use of alternative fuel vehicles. So in addition to buying a Rule 1186-compliant sweeper, we will also look at switching to alternative fuel for our street sweepers. Fortunately, the City has a fairly extensive infrastructure already for compressed natural gas (CNG).
We already have CNG fueling stations located throughout the City. Currently, we have four refuse trucks that run on compressed natural gas, and about 20% of the City's current fleet of 1,600 vehicles operate on CNG. So we have a lot of experience with it, but not on sweepers. Our roll-off trucks that haul our debris now operate on compressed natural gas, but the real challenge will be to see how the switch to alternative fuel will affect the sweeping operation, especially the impact on fueling time.
WORLD SWEEPER: What would you say you have gained from your experience in either the composting or by sweeping for another city?
Jim Kuhl: When we began the program with the City of Signal Hill, we were very concerned about meeting the quality standards and expectations of another jurisdiction. I think that because you always hear that the private sector is so much better than the public sector, we were concerned there would be a lot of complaints when the operation went from a private sector contractor to a public sector contractor.
Actually, it has worked out great and the City of Signal Hill has been very happy with the quality. The residents haven't even noticed a change from the previous contract sweeper to the performance by the City. I think it has been good for employee morale, too. They see they can compete cost-effectively against the private sector and that our work standards are equal to, or better than, the private sector. It's been a good process for us, and a good learning experience.
WORLD SWEEPER: So you will be rebidding on the sweeping contract?
Jim Kuhl: If we have a Rule 1186-compliant sweeper in place by the time it goes out to bid again, we will definitely compete for the contract. Under the law, they can only award a new contract to a vendor with a sweeper that's compliant.
WORLD SWEEPER: Now, about the composting situation: Was there anything on the learning curve that would be something to watch out for?
Jim Kuhl: Yes, we did learn a few things about operating roll-off trucks, but overall it went very smoothly. We had concerns about changing our disposal process. Anytime you change operating procedures you have to monitor them closely. We were concerned about getting backed up on the debris and not having the ability to empty the sweepers as needed. One of the most important factors in our success has been the great partnership with our vendor, Community Recycling. Their whole organization has been very responsive and helpful. When we determined that we couldn't haul the debris in a cost-effective manner, we got out of that side of the business and bid it out. On the other side, we picked up the street-sweeping contract with the City of Signal Hill because we knew we could be competitive. As with any operation, public or private, you have to look at your options, capitalize on your strengths and minimize your weaknesses.
---
You may reach Jim Kuhl via email sent to jakuhl@ci.long-beach.ca.us
This article is reprinted from American Sweeper magazine, Volume 8 Number 1.