Seattle Street Sweep is a pilot project to evaluate best practices and new technology to improve the health of Seattle's waters.
by Ranger Kidwell-Ross

Like other coastal areas of the U.S., Puget Sound is facing an increasing level of degradation created by point and non-point source pollution. In the summer of 2006, Seattle Public Utilities began a street sweeping study designed to determine the effectiveness of sweeping as a front-line pollution prevention BMP.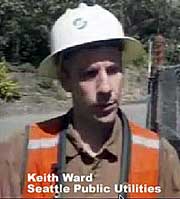 Keith Ward is Supervising Project Manager for Seattle Public Utilities (SPU), the organization spearheading an ongoing sweeper study in the Seattle area. In this interview with Ward, he discusses why there was considered to be a need for such a study, how it is being conducted and what is hoped to be gained from the results.
WORLD SWEEPER: What was the impetus for this study?
WARD: In 2004-05, SPU started evaluating the use of street sweeping to accomplish two main objectives. The first was to improve water quality in the area, because we have a lot of separated systems that are picking up storm water on the streets and are discharging to receiving water bodies like Puget Sound, or Lake Washington. Our organization is focusing toward looking at water quality improvements we can attain and sustain. In the past we have looked at detention ponds, sedimentation ponds, wet vaults, and other practices like that. What we're doing now is looking to add street sweeping to our tool box as something we can better utilize in some areas.
Our second objective is an attempt to decrease our maintenance costs. In 2004 and 2005, we investigated interviews with some municipalities in different parts of the country. Baltimore was doing a study and we also talked to sweeping managers in San Francisco, San Diego and Los Angeles. What we found is that the City of Seattle has a very small street sweeper program, for a city of its size, and is also very heavy on vacuum trucks used for our sewer and drainage cleaning program. In short, we have been overly focused on picking up dirt once it gets into our drainage system catch basins instead of picking it up before it gets there.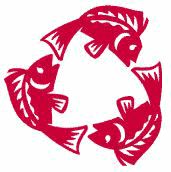 WORLD SWEEPER: So, in your investigation, it appears that other venues have discovered is that sweeping may be a more cost-effective way to remove pollutants.
WARD: Correct. I think assets like a cleaning truck cost around $300,000 to purchase and those also require two people to run. A sweeper truck is probably half that amount and only requires one person to run.
WORLD SWEEPER: Another aspect to consider in this equation is that when material gets combined with water and then runs off, about half the pollutants targeted by the EPA under the Clean Water Act are water-soluble and so they even go through any filter that might be installed in a catch basin.
WARD: Our water quality objective is to remove as many pollutants as possible. Although the Seattle Department of Transportation has street sweepers, the focus of their sweeping is for aesthetics and sweeping is only performed in higher traffic areas.
We want to be more focused on removing fine-grained particles which is where many of the pollutants are found. They currently sweep the downtown business district and major arterials throughout the city, as well as some neighborhood main streets and but they do not sweep most minor arterials and none of the residential streets.
SDOT's sweeper fleet has historically been composed mostly of mechanical sweepers until this past year when they acquired a new regenerative air machine. Now they have two air machines, and have two more coming into the fleet this winter. They have been happy with the results although they are still learning the best techniques for sweeping in the different conditions they encounter.
WORLD SWEEPER: What can you tell us about the current sweeper study you have going?
WARD: In about September of 2005 we started a planning study for a pilot program. The intent was to run a one year pilot program in two or three different basins in the Seattle area and there was a variety of criteria we utilized. We worked with two consultants to design the project, Herrera Environmental Consultants and Roger Sutherland, president of Pacific Water Resources, Inc. Their task was to help us to (A) pick locations in the city where we could do a sweeping study on residential streets and (B) develop a monitoring plan for use during implementation. The monitoring plan included medias to sample, frequency of sampling, and physical and chemical sampling parameters. Eventually, we hired them to go out and do most of the sampling during the year long pilot study.
WORLD SWEEPER: The study started and will end when?
WARD: We began sweeping and sampling in two of the three basins that we want to study on June 20th 2006. There is a third basin we want to sample, one that has a much different characteristic. For the third basin we have been delayed in picking the streets that we're going to sweep.
The two basins that we're sweeping now are located in West Seattle and our Columbia City District that is near Seward Park. The third is in what we call the Duwamish basin. The Duwamish location actually came in unexpectedly as a recommendation by someone else in the utility who has been doing source control work in the Duwamish for the Lower Duwamish Waterway Superfund site. When they found out we were doing this study they were very interested in having it included.
SPU has been working with the Washington State Department of Ecology and the U.S. Environmental Protection Agency to reduce the amount of pollution discharged to the Duwamish Waterway and is very interested in seeing if street sweeping could be a useful tool in the ongoing source control program.
For those who know the City, this area starts at the south end of the downtown area and extends to the south end of Seattle, including parts of the Central District, the Sodo Industrial District and the Georgetown neighborhood, as well as South Park and the industrial areas along West and East Marginal Ways S.
WORLD SWEEPER: Since that area contains a large industrial complex that includes a variety of rail and waterway shipping points, it has to be a big pollutant source.
WARD: It is a big source, with much dirtier streets than much of Seattle, which is exactly what we wanted so that we could see a difference. We are very excited about sweeping in the Duwamish Basin since it should show more positive impacts of street sweeping.
We hope to kick off sweeping in the Duwamish basin in late October of 2006. We're definitely collecting one year of data from the West Seattle and Columbia City basins and expect to collect at least nine months of data from the Duwamish basin. At that point we will run all the data and, hopefully, have some answers.
WORLD SWEEPER: Are all of these being done as paired basin comparisons and what is your general sampling approach?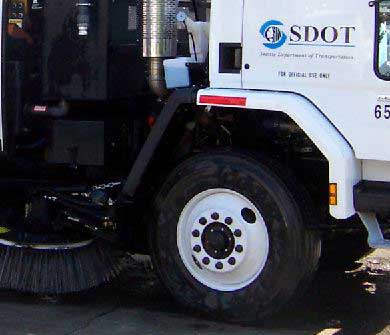 WARD: Yes, they are all paired basins. We will have a swept basin and an unswept basin and will take samples in each of those. I think what might make us unique is the way we decided to do our sampling program.
When we were in the planning phase of thinking about all of this, our initial plan was to sample water running off streets and analyze that to try to see a change in the pollutant composition in the water.
However, at the end of the year we wanted to be able to show some change and, hopefully, get enough data to show some statistical difference. We had heard in past studies in other municipalities that that had been a challenge because they didn't end up getting enough data to conclusively show that sweeping made a difference. So, since we have a fixed budget and want results, we shifted from sampling water to actually sampling sediment.
---
When we were in the planning phase of thinking about all of this, our initial plan was to sample water running off streets and analyze that to try to see a change in the pollutant composition in the water.
---
What we're doing is sampling sediment from three sources in what is called a 'mass balance approach' which include sampling sediment picked up by the sweeper, street dirt left on the street, and sediment that accumulates in the catch basins. We're sampling the three sources at varying times.
For example, the sweeper picks up once a week on Tuesday, and it alternates to each side of the street. So each side of the street is swept twice per month, or every four weeks. We have dumpsters that are locked so no one else can use them, and each week the street sweeper dumps its waste into that dumpster. Once a month we weigh the dumpster to know the weight and actually sample the dumpster waste as well as determine what the material is disposed of. We sample the volume of sediment in the catch basins monthly, and sample the sediment in the catch basins every quarter. We sample the street dirt monthly.
WORLD SWEEPER: How are you doing the sampling? Are you sifting it, or using size differentiation, or simply scooping out some here and there?
WARD: We're doing both physical and chemical sampling. This involves some sieving off in order to figure out the relative distribution of particle sizes, and also includes sampling for different types of metals and other parameters. In each basin, samples of sediment picked up by the sweeper and left on the street are taken every month and these are compiled with two other month's worth of samples. Then, four times a year (once per quarter), the three months of combined samples for that quarter are chemically analyzed. Sediment in the catch basins is sampled and analyzed each month.
More specifically, a small, high-efficiency vacuum, like a shop vac, is being used to collect the street dirt from sample areas of the swept streets. We are using a random generator approach to where along a street block the samples are taken. The volume of sediment that is deposited into the catch basins is also measured once per month. The overall analysis will look at sediment data from those three sources: what was on the street surface, what was picked up by the sweeper, and what was deposited in the catchbasins.
A big part of the project was that we had to do a huge cleaning program and get all the catch basins and inlets that flow into them cleaned, which we did this spring right before we kicked off the pilot study. We really wanted to make sure everything was clean first. So, it's been complicated, in that doing something like that is not one of our typical capital improvement projects. We've had to figure out how to get a portable scale ordered and then have it mounted so that no one would steal it. We've also had to get dumpsters, work with the waste hauler and handle dozens of other details. If anybody is thinking about doing it, they are welcome to contact us. They can definitely learn from our frustrations.
Another big part of the pilot study has been community relations. As you can see by going to our info-website on the pilot, we developed a special standalone website, which has a special email address and a special phone number. We have also done special signage in the target neighborhoods to let people know what side of the street to park their cars. We have decals for each side of the street that list the dates when they need to move their cars. We update those decals quarterly.
If the outcome shows a benefit for this type of sweeping, most likely it would become a much larger program for the city. If that happens, I can't imagine we would continue to do signage where we have to put up decals every quarter. It would be conducted like they do in other cities, where it's something like the first and third Tuesdays, for example. But for the pilot study we wanted to really make it simple for people. We provided a schedule they could put on their refrigerators to help them remember, and we also have an email reminder system.
WORLD SWEEPER: How does your email notification system work?
WARD: The participants get an email the night before they need to move their car. We wanted to be really specific and sort them such that we could just tell those on the west side of the street that this was their week to move their car, but it became too complicated. Instead, every Monday they get a reminder telling them that tomorrow is the day the sweeper will be coming. It's up to them to know what side of the street they should park on. So, although it is not as targeted as we really wanted, it does let them know that the next day they might need to move their car.
WORLD SWEEPER: What can you tell us about cost of the project, for the planning, implementation and analysis?
WARD: The total project is estimated at around $742,000. Here's how that breaks down: $50,000 of that comes at the end of the project, analyzing the results. We spent about $200,000 in the planning phase and we're going to spend about $500,000 running the year long pilot study. That includes hiring the operator, renting the street sweeper from Seattle's Department of Transportation, the community outreach, and hiring a consultant to implement sampling and an analysis plan. As you can see, most of the costs are in conducting the study itself.
The nice thing is that the pilot is really almost on autopilot now. The biggest community response we heard was, to our surprise, on signage. The folks who installed the no-parking signs for us installed many more than we wanted and put them in quite high so they were visible. The people didn't have any signage in their neighborhood previous to that, so it was a big thing for them. Once we found out how many signs and how high they had been placed, we had about half of them removed and brought the rest down to a height of five feet. That was the biggest thing that we heard from the community. Things are going really well now. The sampling program is coming along. Once we finish picking out all the criteria for the last swept basin it should be just a case of going through the process we've laid out.
WORLD SWEEPER: Are you planning to use all of one type of sweeper or a mix? What do you have in mind in terms of the fleet that will be used for this?
WARD: We are only using regenerative air sweepers for the pilot study since our focus is primarily on the water quality side and the literature shows clear advantages to air sweepers for small-micron pickup. We would expect to only use regenerative air sweepers if this was implemented city wide.
We conducted a sweep-off testing last year. That was part of the focus for it, to confirm both that the regenerative air sweepers worked better than the mechanical sweepers, as well as to try to understand what type of regenerative air sweeper might work better. It was conducted under kind of a controlled condition, but that is what the testing confirmed. Our consultants also did good literature research and clearly saw that regenerative air sweepers picked up finer particulate matter than broom machines.
The other thing that I forgot to mention was that we really started with two objectives which were water quality and the maintenance side, but we also added a third. We recognized that parking enforcement is a big part of street sweeping. So, our third objective was to evaluate the effectiveness of the parking program.
As far as the pilot study goes we aren't ticketing people, but instead putting on warning leaflets. Although that is working pretty well, there are some cars we've tracked as never moving. How we're doing that is to have someone go out every Tuesday during the first quarter and write down the license plate numbers of the cars and where they are parked. We've learned, for example, that a few cars have never been moved to the other side of the street where they need to be on sweeping days
If we implement this program, we'll have to deal with the political side of doing parking enforcement. There's no question that we will probably need to have some kind of parking enforcement program if this is implemented.
That's why we have tried to take steps to really involve our citizens in this project and get buy-in from them on our efforts to make the city cleaner, healthier, etc. We're in a beautiful, environmentally-sensitive area, and I think that factor helps when it comes to citizen understanding of what we're trying to accomplish.

Keith Ward, Supervising Project Manager for the Seattle study, may be reached by phone at 206-615-0734. His email address is Keith.Ward@seattle.gov.
Consultants for the project are:
Rob Zisette, of Herrera Environmental Consultants, who may be reached by calling 206-441-9080. Rob's email address is: rzisette@herrerainc.com. 930-6585 is cell
Roger Sutherland, of Pacific Water Resources, who may be reached by calling 503-671-9709 (ext. 24). Roger's email address is: roger.sutherland@pacificwr.com.
WorldSweeper.com will keep this web information updated as study results come in. Currently, we offer the following links to the project information: