by Ranger Kidwell-Ross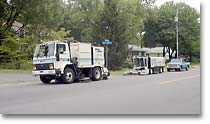 Following close behind the Schwarze M5000 mechanical broom sweeper is the high-efficiency Schwarze EV2 surface cleaner.
The Lake Barcroft Watershed Improvement District (WID), in conjunction with the Northern Virginia Planning District Commission, has concluded a series of sweeping tests. The tests were designed to enable the WID to ascertain the difference in pickup ability between high efficiency sweepers, as exemplified by the industry's leading pickup technology, Schwarze Industries' EV-series sweeper, and current regenerative air and mechanical broom sweepers. The intent of the testing process was to develop statistical data to support grant applications for sweeping-related Best Management Practices designed to reduce both stormwater runoff pollution and total daily maximum loads (TDML) in areas of the Lake Barcroft Watershed.
For the test, Schwarze's model EV2 sweeper, which needs no water for dust suppression, was run in tandem (i.e., following behind) Schwarze's own M5000 mechanical broom sweeper. In another round of testing, the EV2 swept directly behind Schwarze's highly regarded A7000 regenerative air sweeper. The numerical results of these tandem sweeps are shown in the table below.
In the tandem tests, the EV2 high efficiency sweeper actually picked up 141% more material than the mechanical broom sweeper even though the broom machine swept the same surface directly prior to the EV machine. When the high efficiency sweeper cleaned behind the regenerative air sweeper, previously considered to be the sweeping industry's Best Available Technology (BAT), it picked up 44% as much material as what was collected by the regenerative air machine.
These results are made more significant when it is considered that the debris picked up by the EV2 sweeper would probably tend to be composed primarily of smaller-micron material. Although only about 3% of normal street dirt are typically PM-10s (particles in the range of 10-microns in size), studies have shown that over 50% of the heavy metal and organic pollutant load are often attached to that otherwise insignificant amount of small-micron debris. The WID results underscore the value of using high efficiency sweepers where TMDL, air quality degradation, or stormwater runoff pollution are factors.
---
If you have questions or comments about this study, you may contact Stuart Finley, of the Lake Barcroft Watershed Improvement District, by phone at 703-820-7700.
Lake Barcroft Water Improvement District Sweeper Pickup Results
Annandale Road: Mechanical/EV; Total Swept Distance: 3.5 miles
Type of Sweeper
Pounds of Debris Collected
Time Sweeping
M5000 Mechanical Broom Sweeper
1,128
2 hours
EV2 High Efficiency Sweeper
(sweeping behind broom sweeper)
1,590
3 hours
Annandale Road: Regenerative Air/EV; Swept Distance: 3.5 miles
Type of Sweeper
Pounds of Debris Collected
Time Sweeping
A7000 Regenerative Air Sweeper
4,791
4.5 hours
EV2 High Efficiency Sweeper
(sweeping behind regenerative air sweeper)
2,110
4.5 hours
Note: Wet sweeper data was reduced by 15.2% to compensate for sweeper water discharge.
This article is reprinted from American Sweeper magazine, Volume 8 Number 1, 2000.