Sweeping and Disposal Industries in Japan
by Ranger Kidwell-Ross

M. Shibata, general manager of Kyoei, has previously been employed as a general contractor and civil engineer. I interviewed him with regard to the state of the sweeping and disposal industries in Japan.

"In general, there are two main types of debris classifications in Japan," said Mr. Shibata. "The first of these is classified as 'industrial' in nature. This is material that needs special treatment for disposal. The other is classified as 'general disposal' material. Here's the difference.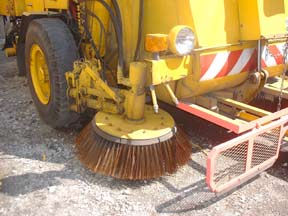 "Suppose a sweeper goes down the street and collects some general rubbish. In Japan, it is very difficult to call this 'general disposal material.' Street sweepings are considered to be industrial debris because one never knows exactly what's on the street. The government then approves of where street sweepings may be disposed. If they are from an area where heavy metals or some other serious pollution is found, the government may require special treatment prior to disposal. However, an example of something classified as general disposal material would be papers generated in an office.
"Our public garbage disposal in the Tokyo metropolitan area is set up for collecting particular materials on certain days. For example, it might be that on Monday and Wednesday we can put out papers. Then, on Tuesday we might be able to dispose of kitchen waste. In other words, we have to separate out our garbage into particular types. Nowadays, there is a special law for recycling, where the government is giving some incentives to large consumers to recycle their rubbish. This includes concerns like restaurants, where they generate material that can be composted instead of landfilled.
"In some instances, companies that generate cans or bottles as waste items may be required to collect them for proper disposal. For instance, if cans become household rubbish, then we separate them out. If companies generate them, they must separate them, too. Landlords owning skyscrapers, for example, are being encouraged to build small facilities within their buildings to treat the rubbish. This includes having compactors to reduce the size of the collection of recyclable material. Also, we have developed a symbol showing that a paper product has a certain amount of recycled material in it.
"On some of our isolated land areas, like on our outlying islands, an additional charge is added to some types of cans and bottles. For example, something that would cost 100 yen in Tokyo might cost 105 yen on the island. Then, if the item is brought back, the person receives the 5 yen. That is easy to do on the island because it is so small, but it is much harder to do in Tokyo and in other city areas.
"We also have to pay a collection fee for some of our appliances, perhaps $50 for a refrigerator. Also, our manufacturers want to reduce their sales costs, so they are trying to use smaller wrapping as well as to reuse wrappings. It used to be we would buy a fridge and it would have a complete, new wrapping all over the outside. Now, the fridges just have a smaller band of material around the edges and it might be recycled cardboard from another fridge. Consumers don't mind this if they think the price is better because of it.
"As Japanese, we now know that if we don't change the way some of these things have been done in the past, then we will have to pay more taxes in the future."
My conversation with Mr. Shibata then turned to the topic of how broom sweeping -- by far the predominant sweeping method in Japan -- is currently done in Japan. Kyoei's fleet, with the exception of its two Schwarze sweepers (an A7000 and an EV), are all Tokyu three-wheeled broom sweepers.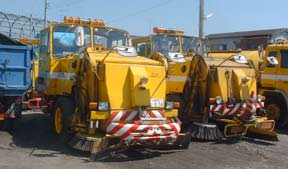 "As you can see, the Tokyu sweepers are strictly broom, and have no air pickup," said Shibata. "Although they have water tanks and spray nozzles, dust can still be a problem, which no one wants. Perhaps five minutes before the sweeper goes by, a water spray truck goes by on the street to make the road surface wet. This is not done to flush the street, but rather to keep dust from being kicked up by the sweeper. The government is concerned about the quality of sweeping, but even more so about the safety. And in case people wonder, as far as I know, all of the water runoff systems in Tokyo are combined sewer systems. "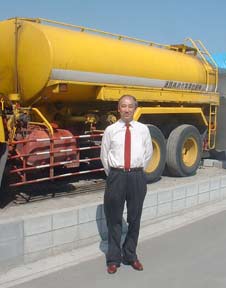 In the last decade, the structure of Japan's industrial base has changed from heavy to light. Shibata cited iron manufacturing and mining as examples of heavy pollution activities that are no longer big industries in Japan. In their place is the relatively benign electronics industry the country is known for today. Another change in Japan is found in the farming community. Although there used to be a large agricultural base, now the percentage of the population involved in farming is down to 4%-5%.
One of the results has been a reduction in pollutants found on the island roadways in industrial areas. Another is a lessening of industrial water usage, which has taken some of the pressure off Japan's potable water supply. Also helping the water concerns is the fact that Japan's population has achieved zero-growth stability. However, Shibata informs me, the water quality has deteriorated in the last two decades. Now, the country is having an increasing problem with phosphates in its water.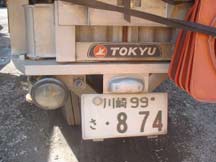 Even so, as discussed in the last article, that's not what's driving the current look at alternative sweeping techniques. It appears likely, however, that a switch from broom to air sweepers will be caused by the government's movement to porous pavement, even though air sweepers are generally considered to be noisier.
Because there are so many different types of agencies involved in setting sweeping requirements, it would appear, at first glance, that any change in this area will evolve slowly. On the other hand, this snapshot of the Japanese sweeping industry shows a country in which changes are occurring so quickly that it's difficult to predict the effect they will have on its sweeping industry in the next few years.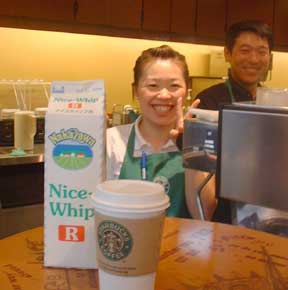 The Japanese people, and especially the management team at Kyoei, were excellent hosts for this stop on our sweeping odyssey. I very much appreciated the help given to us by all. There was, I discovered, another advantage to be found in the visit to Tokyo. If you'll recall the story about the room coffee in the Chinese hotel, then you'll know how much I appreciated the fact that within half a block of Tokyo's Imperial Hotel, where I stayed in Tokyo, there was a Starbuck's coffee shop!
This story was one written during our editor's trip to Asia in 2001 to investigate sweeping. While he was there, Ranger wrote an online journal for the sweeping industry. You may still view this online journal, which won a U.S. APEX Award for Online Journalism, in our archives.