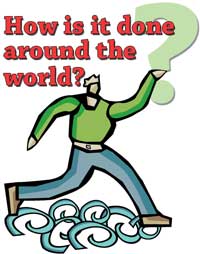 Ranger Kidwell-Ross, our webmaster and Editor of WorldSweeper.com, in 2001-2004 completed intrepid trips to Asia, Australia, and Europe to bring us news of how pavement sweeping is done in some of the countries around the world. The Asia portion of this travelogue won an APEX Award of Excellence in Online Journalism for 2002, while the European travelogue won an Apex Grand Award for 2004.
Table of Contents
Street Sweeping in Tokyo, Japan
Representatives of Kyoei, one of Japan's largest and most well known sweeping contractors, discuss the Japanese sweeping industry. Read the story.
Sweeping and Disposal Industries in Japan
M. Shibata, general manager of Kyoei, has previously been employed as a general contractor and civil engineer. Here he is interviewed with regard to the current state of the sweeping and disposal industries in Japan. Read the story.
Roadway Sweeping and the Ministry of Land, Infrastructure and Transportation in Japan
Masatoshi Sakai is a member of Japan's 'lead agency' when it comes to roadway sweeping. He talks about how porous pavement is changing the face of sweeping in Japan. Read the story.