Street Sweeping in Tokyo, Japan
by Ranger Kidwell-Ross

Sweeping in Japan is more like American sweeping than it is in either Hong Kong or Mainland China, our previous two stops on this journalistic adventure. That's because, in Japan, most all roadway cleanup is done by machine. Even so, there are many more differences than similarities in Japan's sweeping industry than that of the United States.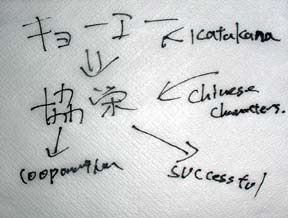 This morning, I met with some of the owners and managers of Kyoei Company, Ltd, perhaps the largest, most well-known roadway maintenance company in Tokyo. The firm's name, when written in Japanese using Chinese characters called "Kanji," is literally the combination of the two words "cooperation" and "prosperity." Willingness to cooperate, most recently shown in their courtesy with me today, has been the watchword that has brought the company increasing success since 1953. That's when Seimatsu Hashimoto, father of the current president, recognized there would be a need for janitorial services in all the high-rise post-war development that was springing up throughout Tokyo. The elder Hashimoto, now 91 years of age and still coming to work many days of the year, is an example of the work ethic and professionalism that pervades Kyoei's operation.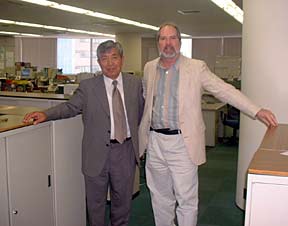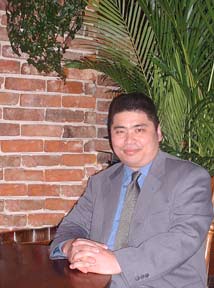 Today his son, Hiroshi, himself 60 years of age, is president and in charge of day-to-day operations. Waiting in the wings is his son, Tetsuji, who was educated in the U.S. at California's Humboldt State University. Tetsuji, who is special projects manager for the company, represents the upcoming generation of Hashimoto's at Kyoei.
This past Saturday, our first full day in Japan, I tagged along while Tetsuji and his father met with Mark Schwarze, president of Schwarze Industries, Inc. Kyoei has two Schwarze sweepers in its fleet, one an EV2 and the other a regenerative air model A7000. The rest of Kyoei's sweepers are the 3-wheeled Tokyu mechanical broom sweepers that currently set the standard for most Japanese sweeping. Tetsuji, and M. Shibata, their English-speaking general manager, were good enough to provide me with a primer on the current state of sweeping in Japan.

Although it's a sweeping contractor, Kyoei, like every other company that might be called such in Japan, also provides much more in the way of customer services. While many contractors in America have structured their businesses so as to 'do it all' for their customers, in Japan that's pretty much the only way to stay in business.
To begin with, the story of Japanese sweeping means either municipal contractors or government sweeping. There is no parking area sweeping industry -- at least in the form we know it -- on the island of Japan. The reason is that the strip and other malls don't have the same type of parking space availability. In Japan, where urban space is at an absolute premium, there is very little room for a sweeper to maneuver. So little, in fact, that there is no demand for machine sweeping of parking areas.
"Our company, Kyoei, and others, have clients with which we contract to clean their parking lots," explains Tetsuji. "The difference is that virtually all of the sweeping is done manually by our employees, with brooms, as part of our janitorial services. Also, some retail stores have their own employees do the parking area cleanup, again with brooms, but almost no one buys a machine to do it. There are some small walk-behind sweepers or scrubbers, but not many at all. No sweeping contractor business, offering power sweepers to do the job, exists in Japan, and I don't think there's really a need for it. When there is, Kyoei will be there, of course, but right now the market for that kind of service just isn't there yet."
Roadway sweeping, which Kyoei is heavily involved with, is also drastically different from the similar enterprise in the States. "About half of our business these days is janitorial," said Tetsuji, "and the other half of the company is involved in road maintenance. Sweeping is a part of our road maintenance side.
"We also have to be professional enough to deal with the rules of five different types of government on the bids. The fastest highways, basically the 100km/hour roadways, are under the control of the Japan Highway Public Corporation (JH). They oversee the high-speed roads located outside of towns. JH requires sweeping during the day for nearly 100% of their contracts, because the traffic is traveling too fast for it to be done safely at night."
However, for JH jobs, the sweeping of a roadway is just part of an entire package of maintenance services that is bid on. Built into their standard bids are a number of other required services, including flagging for accidents, roadside grass cutting and maintenance, debris dumping, fixing guardrails damaged by accidents, and pothole patching, to name just the standard items.
"When the yearly maintenance contract comes up for bid on a stretch of roadway, companies like ours bid on the entire package. We have to estimate what all of those services will be likely to cost in the coming year, and we then bid on providing the combined services for the year-long contract. Although we provide much of the service ourselves, we also have several sub-contracting companies that do nothing but work for us on our contracts. And, we provide sweeping as a part of the overall contracts we are successful in winning."
Can you imagine the complexity that would be added to the already difficult U.S. municipal market if it were structured like this?! Read on, as the tale gets even more convoluted.
"The counterpart to JH is what has historically been called the Ministry of Construction, but this agency was reorganized this year and renamed the Ministry of Land, Infrastructure and Transportation. This is the agency that oversees the maintenance contracts of our national high highway system. These roads typically have a top speed limit of between 40-60 km/hour, and they are almost all swept during the nighttime hours. This organization, and the others that follow, primarily has bids just for sweeping services."
"The Tokyo Metropolitan Government roadways have mostly a 40-50km/hour speed limit, and are all located within the city limits of Tokyo. They have a requirement for virtually 100% night sweeping."
"Finally, we bid on contracts and provide services for a number of smaller towns, villages, and roadway districts. I'd say their requirements for sweeping are split about 50/50 between day and night. So, as one can see, it's a complex country in which to run a sweeping company, especially when each contract is for a number of other services besides sweeping."
Although Kyoei has a substantial sweeper fleet of its own, some of the agencies prefer not to use them. That's because several municipalities have their own sweepers and, as specified in their contract, merely want the successful bidder to provide the operator(s) to run them. That adds another twist seldom seen in the U.S.
This story was one written during our editor's trip to Asia in 2001 to investigate sweeping. While he was there, Ranger wrote an online journal for the sweeping industry. You may still view this online journal, which won a U.S. APEX Award for Online Journalism, in our archives.