Municipal Recycling In Action
Ramsey County's screening operation promises all kinds of benefits.

Ramsey County, Minnesota, is composed of approximately 15 cities. One of these cities decided to look into recycling their sweepings. In the spring, most of what's picked up is road sand -- abrasives from their winterizing -- and city officials wanted to investigate recycling the material for reuse the following winter. Application was made for a State of Minnesota Innovations Grant.
Daniel Schacht, Maintenance and Operations Engineer for Ramsey County, said that "During the process of working to involve the other cities in the area and the county itself, investigation revealed that about 70% of spring sweeping volume was being generated from county roads. This prompted officials of Ramsey County to take over the application. Recently, the county was awarded a $95,000 grant to purchase a conveyor and screening plant. These units were purchased last fall, and then put into operation this spring. Under the program the county has developed, both the county sweepers and those from the cities in the county run their sweepings through the screening plant."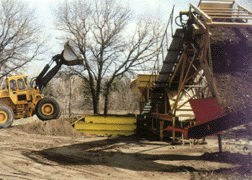 The procedure is a one-to-one trade: For a truckload of sweepings, the originator gets back a truckload of screened material. Cans, bottles, etc., are put into dumpsters and disposed through their normal process. Cities are using the screened sweepings in a variety of fill applications, such as backfill, and also in winter ice control. The county stockpiles most of its screenings. Next winter it will be mixed with new abrasives for re-use in snow and ice control.
"Some of the sand will also be used to manufacture topsoil, through the addition of leaf compost and some clay," said Schacht. "Then we'll use it in our own suitable projects that call for topsoil. Doing that will save us from having to buy topsoil material. The rest of it will be re-used next winter in ice control. The only change we are making is to specify a more coarse sand in our bid specifications. We see this as having two advantages: the final composition of the mixture will be better, and it will be easier to pick up and screen after sweeping it up next spring. That way we expect to end up with less of a dust problem when we sweep, too."
This article is reprinted from American Sweeper magazine, v5n1.